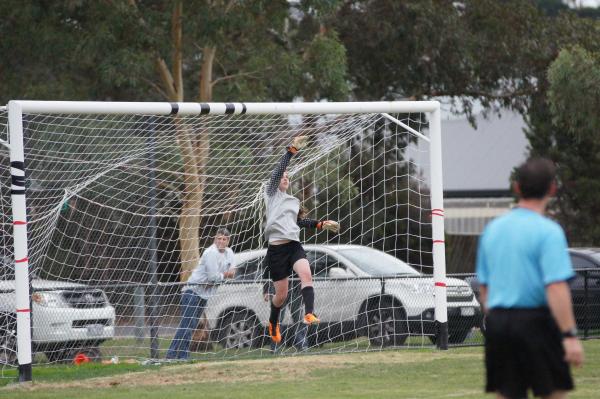 By JARROD POTTER
BERWICK City women's soccer team overcame the loss of starting keeper Erin Hudson and two early opposition goals to rouse a 3-2 win following a second-half revival.
In their Women's State League 1 clash, following early goal-bound forays by Albert Park forwards Sarah Shiell and Sophia Iosifidis in the first 20 minutes, Hudson went down trying to stop Iosifidis' strike and hurt her shoulder in the process.
She tried to play on, but was substituted for an unlikely back-up keeper – dominant Berwick City goal-scorer Jo Carey.
Carey showed her soccer skill isn't just up forward, as she led the Berwick City troops and marshalled the defenders in an impressive first outing in goals.
Azize Erenli opened the accounts for Berwick City to bring the margin back to one, before the Albert Park system fell apart.
Sharnay Groenmeyer struck cleanly into the top left corner from a free kick to level the margin, and when Albert Park pushed its players behind the ball to stem the bleeding, Berwick City struck again.
The coup de gras was fired off the boot of Shirley Anthony – breaking through the defence to slot the match-winner in a memorable comeback.
"I said to the girls at half time, 'if we can get a goal in the first six or seven minutes we're back in this game'," Berwick City coach Tony Rafferty said.
"We get the momentum, kicked the goal and from then on it was a different team we had.
"Played it on the ball along the ground – they played an awful lot of high balls and we played a flowing possession type game.
"They were backing off, putting people behind the ball, going for the draw, and we broke through with Shirley Anthony."
Rafferty said his injured goalkeeper was champing at the bit to get back on the park, but kept her off as a precaution and trusted Carey to get the job done.
Hudson's a young player and came up from the under-16s last year and we got her into pre-season and training her well and she loves playing in goals and unfortunately she hurt her shoulder," Rafferty said.
"Could've come on again in the second half, according to her, but I wouldn't have any of that.
"I had Jo Carey on the bench – was going to bring her on forward – but she understands the communication from the back and is very experienced, so I had her go into goals and she got the clean-sheet."
Berwick City women sit fifth on the WSL1 ladder and takes on South Yarra at home on Sunday.
In Women's Premier League results, Casey Comets easily bested Heidelberg 4-1, with Comets' young guns Taryn Browne (5'), Alex Gummer (18') and Annie Remman (52') making the early breakthroughs before star striker Brittany Dudley-Smith (78') put the icing on the cake.
Casey sits fifth on the WPL ladder. It hosts EAP at Comets Stadium on Sunday.