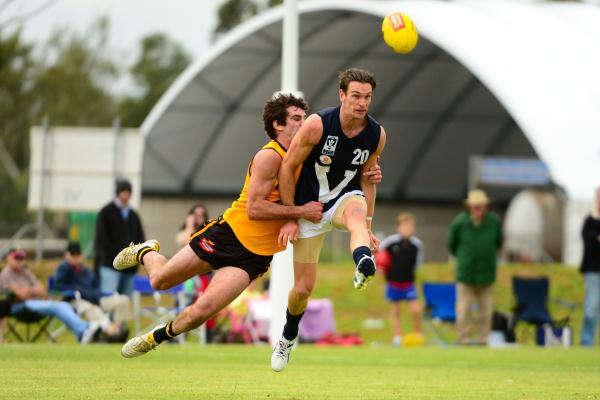 By JARROD POTTER
HONOUR and pride are two words that sum up Evan Panozza's football and ideals he took into his state-level debut for Victoria.
Panozza, 25, the Casey Scorpions captain, was one of a select few to wear the Victorian colours against Western Australia in this year's state match on Saturday.
"I was super excited and also proud that I'd been included in the initial squad and proud of my efforts to make the final team," Panozza said.
"It's a bit of a reward for effort after all the years I've been at Casey – it's my eighth season – so to be able to play some good footy and be rewarded and recognised as an elite player in the competition is very humbling as well."
Results didn't favour the VFL on Saturday, outplayed in the second half by the harder running WAFL at Northam, which turned a 31-point deficit half way through the third quarter into a 17-point victory as the WAFL defeated the VFL 17.16 (118) to 15.10 (100).
It ended a 22-year drought for the Western Australians – ending a losing streak stretching back to their last State of Origin victory over Victoria in 1991 at the WACA ground.
Panozza was thrilled to get the chance to wear the special Big V jumper and become part of the history that it represents.
"I loved the whole experience – there was a lot of history behind it and to pull on the jumper, was my first time I've ever represented my state," Panozza said.
"Unfortunately we weren't able to get the win, but the whole experience was something I'll never forget."
Panozza was impressive in defence – listed in the best performers for Victoria – an achievement he ranks as his best game of the season so far.
"I was proud of my performance – I thought I reflected all the values the Big V jumper represents," Panozza said. "Thought it was possibly my best game for the year, which everyone was striving to achieve."
Panozza wanted to thank the club, his team mates, family and friends for a world of support in his time at Casey – since switching across from Eastern Football League team South Croydon eight years ago.
"The support of my family and friends has been super in my time at Casey, so I want to thank all of them and my team mates have always been supportive of me and encouraging me for my selection in the team," Panozza said.
"For me to be able to not only represent my family and friends, but the Casey Scorpions Football Club in the state side, I think it was great reward for the club and I was proud to be given that opportunity."
Panozza returns to the Scorpions' ranks this week when he leads Casey out against Box Hill at Casey Fields on Saturday.