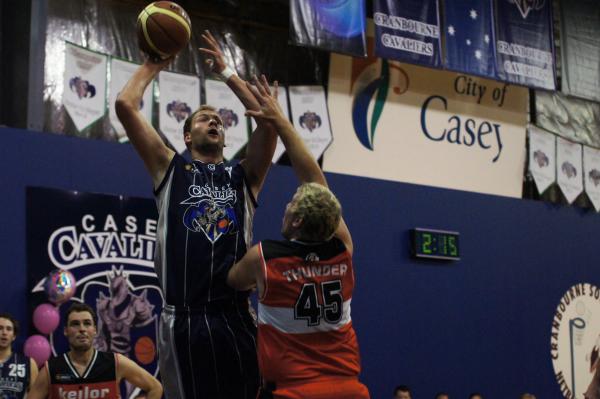 By JARROD POTTER
HOW quickly tides can turn.
Four weeks ago the Cavaliers men were flying – atop the ladder, clamping down on defence and chipping in across the board to take four wins consecutively.
Now that same team has gone backwards – conceding four in a row and falling to sixth on the ladder, in a four-way battle for … fourth.
Nothing went well for Casey in their 63-72 loss to Keilor – failing to hit their shots or mount any sizeable offence in the circumstances.
"I think we're having trouble playing consistently for longer periods of the game," Cavaliers coach Stewart Baird said. "Our starts have not been good in any of our losses – so we're obviously not ready to go at tipoff, which is a concern.
"It's just a matter of being able to play at that higher level for longer periods of the game – you've got to be able to be more up than down to win games in this competition."
Baird said Dylan Wayman (20 points) and Sean McKinnon (seven points, four rebounds) put their all in for the Cavaliers and Ryan Sinclair (10 points, three rebounds) was noteworthy in a great off-the-bench performance.
The sun's shining a little brighter on the Cavaliers' women – despite conceding their fourth loss of the season, a 58-63 fade-away against Keilor. The Casey crew remain in third with a 6-4 record.
The Cavaliers' women couldn't shut the door on Keilor's top shooters – granting Jessica Franke (27 points, seven rebounds) and Jodi Impey (14 points, eight rebounds) far too much space.
On the Casey side of the scoresheet, Jess Szalek (10 points, seven rebounds) performed ably, if not to her top calibre, while Lara Pauline (10 points, four rebounds) and Naomi Roussety (2 points) were hard at the ball according to coach Mark Holman.
"I think it was our inability to shut down some of their hotter players- same as against Southern Pen," Holman said.
"Frankey and Impy went on a run hitting outside shots and we didn't have the ability to stop them.
"Takes a while to work ourselves into the game and we have the inability to finish off teams."
Coach Mark Holman is waiting to assemble the fiercest arsenal yet – last year's league MVP and All-Star five representative Renae Mokrzycki is set to return next Wednesday from her freshman year of college.
The Cavaliers head to Western Port on Saturday evening in the meantime – with both sides desperate for a win to bounce back into the top four.