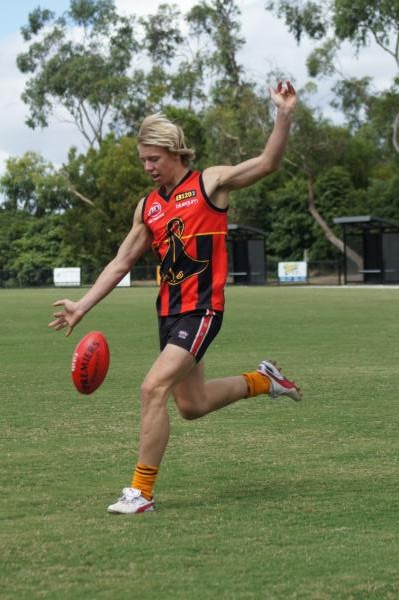 By JARROD POTTER
TAKING different paths into the Vic Country guernsey are Devon Meadows midfielder James Harmes and Cranbourne forward/midfielder Clay McCartney.
Harmes, 17, from Devon Meadows, was initially cut from the 50-man squad, but earned a second chance from selector Leon Harris and impressed in the final trial match.
"I got cut at the top 50 and I was pretty shattered," Harmes said. "I gave Leon Harris a text and said thanks for the opportunity – is there anything I can work on – he rang me and said there's an opportunity to play in the trial match.
"Played in the second game in the trial match … played alright, didn't dominate or anything and had a few kicks, but he called me on the Tuesday night after training for Stingrays and said I made it."
Harmes wants to seize every opportunity in the Vic Country jumper, but would love to play against Vic Metro at Etihad Stadium on Wednesday July 3.
"It would be crazy if I did," Harmes said. "To come out of nowhere and play in one of the biggest matches for the year it would be incredible."
McCartney, 17, from Cranbourne, earned his spot in the line-up after impressing last season as an under-age player for Vic Country and starting his season for Dandenong Stingrays in sensational form – snaring 14 goals in his first six matches.
Stingrays region manager Mark Wheeler believes McCartney will impress at the championships, with the young forward wanting to play a superhuman five-from-five carnival matches.
"Clay started his year brilliantly and went after what he wanted," Wheeler said. "Wanted to play all five Vic Country games and we tried to wheel it back a bit and get him in the side first.
"He's kicked multiple goals every game he's played – gone up the ground when he needs to and into the midfield."
Dandenong's captain Nathan Foote, from Narre Warren, is a shock omission from the side, as are in-form forward Nathan Gardiner (Cranbourne) and midfielder Jordan Bastinac (Narre Warren).
Six other Dandenong Stingrays made the grade and will pull on the white jersey for Victoria Country with Billy Hartung, Zak Jones, Josh Pickess, Daniel Capiron, Tom Lamb and Brady Egan also earning a call-up.
A selected squad will travel to Darwin this weekend to face the Northern Territory in the first match of the championships.