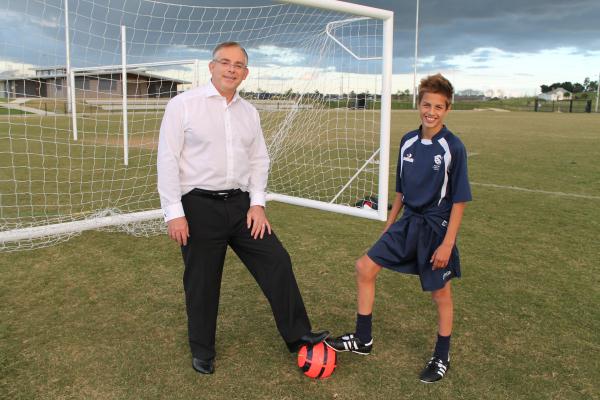 By BRIDGET SCOTT
LAST year, former Berwick resident Brady Quinn received a Local Sporting Champions grant and Holt MP Anthony Byrne is encouraging others to do the same.
Mr Byrne caught up with Brady last week to promote the grant and believes it is a fantastic opportunity for parents with sporting children.
The Labour Government's Local Sporting Champions program is aimed at helping junior sports stars meet the costs of participation at eligible sporting competitions.
My Byrne said that the Labor Government is dedicated to providing this program which can help fund costs associated with sport.
"The Labor Government is committed to promoting participation in sport and providing support to boost our community sporting programs," he said.
"This grant program is designed to help more families cover the costs of expenses associated with particiapting in sporting competitions and support our junior athletes and future Olympians.
"Brady Quinn of Officer, a junior soccer star, was a recipient of one of these grants, and his mother Kelly said the it was especially beneficial to her family.
"It made a huge difference because Brady plays at state level," Kelly said.
"It ends up being in excess of $5000 – it helps for the costs with Brady."
Last Thursday Mr Byrne encouraged aspiring champions to follow in Brady's footsteps.
"This grant has helped many young aspiring champions like Brady Quinn and his family covering his expenses for the National Youth Championships in NSW last year," Mr Byrne said.
Mr Byrne explained the grants will help families by subsidising the costs associated with their children's sporting activities.
"I encourage parents, coaches and junior athletes to apply for a Local Sporting Champions grant to help them meet the costs of their involvement in a sporting championship," said My Byrne.
The Labor Government now provides 3.17 million in funding through the Local Sporting Champions program each year to support junior athletes perform at an elite level.
"This has been a very successful and popular program and the government is proud to help support young Australians achieve their sporting dreams," said Mr Byrne.
Kelly Quinn said is definitely a program her family will go through again.
"We will apply for it again – it really helped," she said.