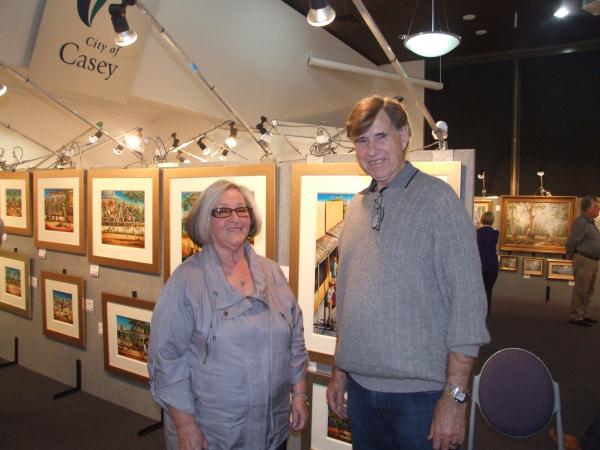 By JIM MYNARD
KEVIN Hill's annual Top Ten art Show in the Casey Civic on the weekend of 5, 6 October drew art lovers to Casey from across Victoria.
Casey Mayor Amanda Stapledon said it was nice to welcome former City of Casey director Community Services, Jennie Lee, who was visiting from Adelaide, and commended MC Ern Trembath, a local artist and former guest artist of the Top Ten exhibition, whose work was on show during the exhibition.
"It is a great pleasure to welcome Kevin Hill and his artists back to the City of Casey for this, the ninth, Kevin Hill Top Ten Australian Artist's Show held in our city.
"This free art show continues to be incredibly popular, and the council is pleased to provide the venue for our residents to enjoy it.This is a fantastic event on the Casey calendar and is something our community really looks forward to.
"The concept of a travelling art show is a great one. It brings the work of a variety of Australian artists, as well as the artists themselves, to people all around the country, providing opportunities to enhance our knowledge and appreciation of particular forms of Australian art.
Cr Stapledon said as well as the touring artists, the show was a great opportunity for the local artist selected to be the Casey guest artist.
"This is a particularly important opportunity for our local artists because they do not always get the chance to exhibit their work in Casey.
"This year's guest artist is the very talented Do Noble, whose unique, colourful artworks are a wonderful addition to this year's show.
"With the thought that artists travel to distant shores to gain vitality and colour in their work, Do migrated to Australia in 1988. Since then he has blended his individual style with the local setting, creating vivid artworks in oil, pastel and watercolour.
"Do uses colour fearlessly and captures the beauty of life using a technique known as 'pointilism', that is, using tiny dots of colour to create an optical illusion of an atmosphere that moves.
"Whether viewed up close or far away, Do's beautifully dappled works draw the eye with their striking colour combinations and amazing quality of light.
Cr Stapledon said council had commenced the $125 million Casey Cultural Precinct which would help to address the lack of arts facilities in the region.
"This unique project, the biggest of its kind ever undertaken by local government in Victoria, will include an 800-seat regional theatre, multi – purpose exhibition space, regional art gallery, community library, civic centre and council offices, an activated community plaza and a regional schools centre for the arts.
"I urge everyone to keep getting involved in the arts, supporting our local artists and taking the opportunity to experience new works."
Top Ten Art Show principal Kevin Hill said most members of the team were able to be at the Casey exhibition, but noted one regular, Ian Hansen, was at the International Fleet Review and centenary celebrations in Sydney.
He said Mr Hansen, a highly acclaimed marine artist and former naval officer, was commissioned to paint the fleet as it entered Sydney as a match to a painting done 100 years ago by John Alcott of the fleet review on 4 October 1913.
Mr Hill said the Hansen painting would be hung next to the Alcott painting in the National War Memorial.
Mr Hill commended the work of staff at the City of Casey and said they were most helpful in setting up the exhibition.
He also welcomed former Casey director of community services, Jennie Lee, who was visiting from Adelaide and who had been involved in running previous Top Ten Art Shows.
"I have worked with Jennie in the Sister Cities movement, where she was a leader at national level, and it is lovely to see her here.
My wife Cheryl and I, on behalf of the artists, thank people from the City of Casey for their support.
"Casey people can be very proud of this council," he said.