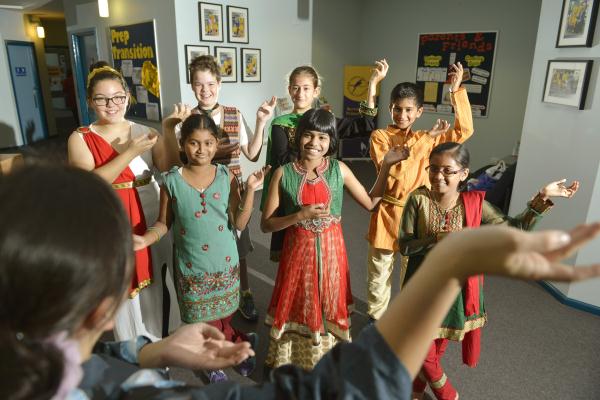 By LACHLAN MOORHEAD
IF THERE was a message to take out of last week's Harmony Day, it was that cultural respect should be upheld by everyone, all the time.
And if the students from schools across the City of Casey are anything to go by, the Harmony Day message was definitely sinking in.
Berwick Lodge was one of the schools to participate in last week's event, which coincides with the UN's International Day for the Elimination of Racial Discrimination.
Berwick Lodge event co-ordinator Lianne Morgan said the students gathered at the school's basketball court on Friday, wearing either orange or their cultural dress.
"The theme for this year was Everybody Belongs, a day for celebrating our similarities and recognising our differences for all people who call Australia home," she said.
"We learn and understand how all Australians from different backgrounds equally belong. Our school registered the event and received a pack of balloons, posters and stickers.
"In the weeks preceding the event, classes and their buddy grade got together to work on specific Harmony Day activities."
Meanwhile, students from Fleetwood Primary School in Narre Warren held a parade to honour Harmony Day, where individual costumes were showcased and Narre Warren South MP Judith Graley was invited to speak.
In the afternoon, Fleetwood staff participated in a multi-cultural lunch where they experienced different cuisines.
Fleetwood Primary School principal Kerry Coffey said it was the fifth year that the school had taken part in the Harmony Day celebrations.
"This year, pupils could choose which country's traditional dress they wanted to wear," she said.
"It's always a terrific day.
"Students love getting involved in the costume parade and seeing other kids wearing their own dress from their family's birth."
Harmony Day wasn't restricted to primary schools, with kids from Edrington Park Child Care Centre also getting involved with the celebrations.
Meanwhile, high school students from Fountain Gate Secondary used all of last week to celebrate cultural diversity, learning about a wide range of ethnic music, languages, foods and traditional dress.