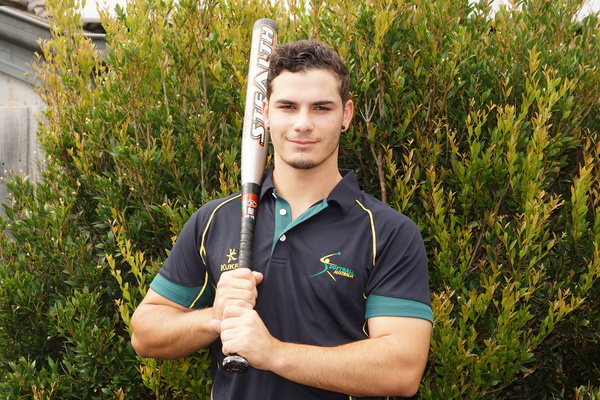 By JARROD POTTER
SPENDING a year on the sidelines solidified Adam Talarico's resolve and pushed him towards the peaks of junior softball.
Talarico, 18, from Berwick, was left to make the toughest decision of his sporting journey – whether he picked soccer or softball – after rupturing his anterior cruciate ligament (ACL) playing soccer for the Casey Comets.
Instead of risking his knee to another tackle, Talarico hung up the boots, at least for the time being, to focus on softball instead.
"I was actually playing soccer until two years ago, but then I got injured and it was a pretty serious injury of tearing my ACL," Talarico said. "I got tackled and had to take a year off from all sports altogether and was only good enough to play again at the start of last year.
That decision has paid off as the powerful shortstop was selected for the Softball Australia under-19 men's team.
He is set to take on the rest of the world at the upcoming championships in Michigan, USA, later this year, and is thrilled to get his opportunity.
"Because I knew this was coming up, I had to make the decision, and this was more of a once-in-a-lifetime opportunity, and I doubt I'd get that in soccer, so it helped make the decision," Talarico said.
He didn't get a chance to represent Australia at the last World Championships, but is pleased to get the chance this time around in spite of everything he's gone through.
"It's been a long process – I've been in the Aussie squad, a squad of 33, for the last couple of years," Talarico said. "Because the under-19s is every two years, I missed out on the one previously and this is my top age year of under-19s, so I was lucky enough to make it.
"I was pretty shocked at the start – I didn't know what to say as I got a phone call and found out before everyone else and had to keep it hush for a couple of days before they announced the team."
He was picked on the back of an exceptional 2015/'16 softball season, making the Victorian side and also playing in the Friendship Series.
The side will head over for a short practice tournament in Toronto, Canada, in July before heading down to the US to battle the rest of the world.
On top of that, his hopes for softball include a stint in America playing domestic league before returning to Australia to make a big impact in his summer sport.
If anyone is interested in sponsoring Adam Talarico's world softball ambitions, he has a GoFundMe page – https://www.gofundme.com/ataussiedream.