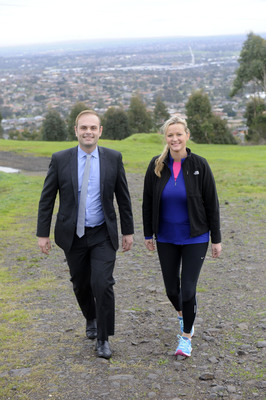 By CAM LUCADOU-WELLS
COMMUNITY groups are backing Casey Council plans to elevate a disused Narre Warren North tip into a $1 million tourist attraction inspired by the 1000 Steps.
In its draft 2016-'17 budget, the council allocated $50,000 for planning the bland Kurll Park landfill's transformation, including extensive landscaping and viewing platforms.
Councillor Rafal Kaplon said the '1001 Steps' project would be a unique take on the Dandenongs' famous gut-busting track.
For one thing, it wouldn't be as steep so it will be more accessible though the platforms would "make the most of the natural elevation", he said.
He said it would require a lot of landscape works to beautify the former landfill.
It was also hoped the visitors' passive surveillance would deter an entrenched four-wheel-drive hooning problem on the reserve.
"At the moment it's not a real park. It's basically empty fields," Cr Kaplon said.
The project was expected to be fully funded in the 2017-'18 financial year, he said.
Cr Rosalie Crestani said the park could be potentially renamed to Bayview Park – in recognition of the former Bayview quarry on the site.
The project was hoped to become a scenic and recreational magnet, attracting visitors and tourists from far and wide to a "breath-taking" view.
Down the track, she hopes a private cafe operator may move onto the site.
Cr Crestani expected the plans to be well received during community consultation.
"It's introducing something that Casey hasn't had before," Cr Crestani said.
She noted the Casey project would include 1001 actual steps.
"I think the 1000 Steps is only actually 700," she said.
Narre Warren North Community Association president Michael Allday said it was a "great idea" to tidy up an otherwise "derelict site".
"At the moment it's a meeting place for young people to do illegal things. This might change that."
Save the Casey Foothills Association spokeswoman Rosalie Counsell also supported a tourist attraction at the reclaimed site, which is separate to the nearby Kurll Park nature reserve.
"If it ends up being a bigger version of Wilson Botanic Park, that can only be a positive thing."
Other Four Oaks Ward draft-budget projects include about $150,000 for planning stage two for the Endeavour Hills town centre precinct at Raymond MacMahon Boulevard.
The stage will include a skate park, landscaping and accessible terracing of the area's steep terrain and opening up access to the YMCA leisure centre and library.
The council also allocated $1 million to road re-sealing in the ward, $906,000 for a tennis pavilion and other upgrades at Sydney Parkinson Reserve, and $600,000 other sports upgrades at Syd Pargeter Reserve.
Oatlands Children's Centre, Hartley Ridge Kindergarten and Maramba kindergartens will share $680,000 in upgrades.