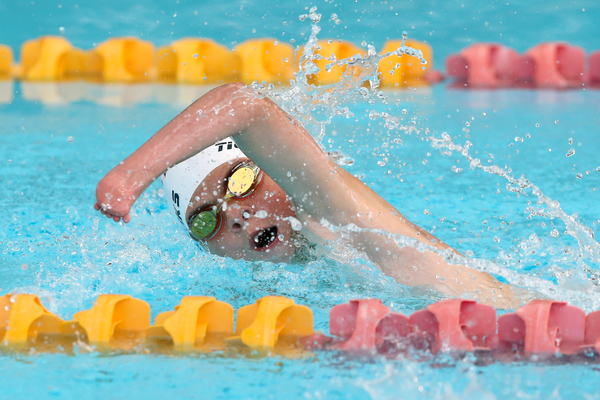 By JARROD POTTER
JACK Howell lives by a simple, yet famous mantra – 'just keep swimming'.
His story shares a lot of similarities with the famous aquatic characters of the Finding Nemo and Finding Dory films.
Howell, 12, from Berwick, was born without a left hand and often refers to himself as having a 'lucky fin' just like Nemo.
Instead of letting it hold him back, Howell just powers on, swimming despite the odds thrown against him and has reaped some major rewards already.
"Nemo has a 'lucky fin' that is small than his regular fin also another connection in the movie Dory says 'just keep swimming' and that replicates to me when I'm in training," Howell said. "Just to keep going with my swimming and … just never giving up.
"It was an inspiration for me to follow – and when I was watching Finding Nemo when it first came out, I didn't know I was going to become a swimmer but remembering it has been an inspiration for me.
"I would say anything is possible if you try and train."
Competing in the School Sport Victoria (SSV) swimming championships, Howell won two gold medals and qualified to represent the state at the upcoming school's national championships in Darwin this September.
His achievements are that remarkable that Howell is the only primary age boy with a disability selected for the team.
"Making the state team was a sense of relief almost because I was so close in my races, it was a sense of relief to know that I'd made it in," Howell said. "It was a bit of a surprise because we didn't know until our friend came along and told us."
Howell has qualified for seven races at the national championships – 50m freestyle, backstroke, breaststroke, butterfly, 100m and 200m freestyle as well as the relay.
In the meantime, it's back in the pool for just a bit more swimming in training as Howell has three sessions a week with the Casey TigerSharks and Vic Team coach Karen Garrard as well as being selected for the Kambrya College Athlete Development Program based on his swimming, running and athletic abilities.
He hopes to swim for Australia one day at the Paralympics and has been earmarked by the Australian Paralympic Committee at its 'Talent 4 Tokyo' event with a suite of impressive results.
As a student at Brentwood Park Primary School, and Sports captain for Casey House, Jack is currently raising funds to meet almost $3000 of travel and team expenses to compete at the Darwin Nationals. Raffle tickets can be purchased at Brentwood Park Primary School and if anyone is interested in sponsoring him, they can contact Therese Howell on 0439 905 533.