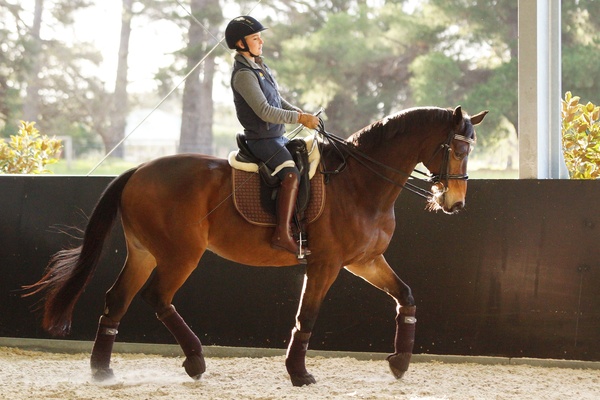 By JARROD POTTER
LOOKING back on three years of hard work in and out of the equestrian arena, Emma Booth is still wrapping her mind around the fact that she's earned her place at the Rio Paralympic Games.
Booth, 25, originally from Berwick, saw a light at the end of the tunnel by dreaming about Rio.
After the car accident that left her paralysed, riding again was her main motivator – to literally get back on the horse and aim at a new horizon beyond her limits.
Making the Paralympic team – qualifying for the dressage with her horse Zidane – was one of those multifaceted moments she's still wrapping her mind around as she prepares to fly out to Rio and compete for Australia.
"A lot of different emotions, I guess – excitement, a bit of relief I guess, but probably just more excitement and excited about the times ahead," Booth said. "The moment they announced the team and when you realise that all the hard work you've put in so far has paid off … then you have to stay fit and healthy and keep working just has hard now that the team has been announced."
From day one of her rehabilitation, Rio was her target.
Representing Australia at the Paralympics was the guiding aim that forced her hand and pushed her training to the next level.
"It's pretty cool when you put it like that – it's a bit of an unbelievable feeling," Booth said. "Maybe it hasn't really sunk in yet.
"It's been a huge rollercoaster of ups and downs – finding a horse was the first task which was really difficult. I had to find a horse that was suitable for me but also quality enough to be a contender at Rio."
That horse, Zidane, was amazingly found on the Mornington Peninsula after a few trips abroad and interstate looking for Booth's ideal horse.
With only three weeks of practice together, Zidane's introduction to para-equestrian riding, Booth managed to get him ready for the Paralympic qualifying events.
By sheer coincidence, one of the events was also on the third anniversary of her accident.
"That day in particular was very emotional day, on one hand having the three-year anniversary of the accident and having to relive in a way all the emotions as to what happened," Booth said. "Then at the same time we're going into the ring and winning our Grade 2 Para test that qualifies us for the Paralympics… so I guess overall it's been testing, but exciting and fun.
"It's been enjoyable since I've had Zidane … he's the most fun horse to ride and every day he's a real one-in-a-million."
She has one last competition in Australia on 23 July at Boneo and has high hopes for the upcoming Games, but she's not letting her mind wander as there's plenty left to do before they go.
"Taking it all as it comes I guess – taking it in my stride," Booth said. "We've got some awesome scores in qualifying and have a really good shot of doing well and potentially even medalling at Rio, but at the same time I'm trying not to get ahead of myself and just to enjoy the journey.
While it's vindicating to look back and know her fledgling dreams have been forged in reality through hard work, Booth knows it was a team effort to get her to Rio and wanted to acknowledge everyone who helped her along the way.
"It's just setting your mind on a goal and working towards that and putting everything you can towards that and achieving what you want to achieve," Booth said. "I've said it a million times before though, you need to use the help around you; I couldn't have done this without my family's support in the early days and Glenn Carter who did the ride (Ride With No Limits), or done it without anyone who has been involved in the journey so far and that's a really important thing."
She wanted to thank her family, boyfriend Josh, PR lady Steph, Glenn Carter, coach Lone Jeorgensen as well as sponsors Cranbourne Horsepower, Flexifit Equestrian, BSM Sport and Hiform for their support.