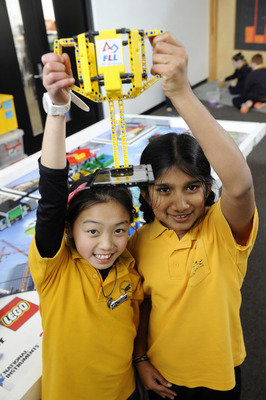 By CAM LUCADOU-WELLS
BERWICK Lodge principal Henry Grossek does not want to waste his school's world-beating moment.
It's time for governments to get behind popular rhetoric of more sci-tech and maths in schools. And, in short, show them more money.
Mr Grossek said the school's international First Lego League robotics title underlined what happens when "top-end" students in primary school are given an opportunity in this technical field.
However, the school's tight resources were dwarfed on the world scale, he said.
In China and the US, universities and engineering corporates backed schools to the hilt, with know-how and equipment.
Berwick Lodge's robotics teacher is flanked by adult volunteers, funded out of its general kitty.
"The resources aren't cheap and training for teachers and support people is high-end," Mr Grossek said.
"The world is ahead of us in robotics. But we've got the kids that can do well with our limited resources."
Mr Grossek said recently re-elected La Trobe MP Jason Wood discussed the idea of a 'robotic centre of excellence' in Casey after the school won a national robotics title.
Now with the school's recent world title, there's an "impetus to grow something here", Mr Grossek said.
"This is the sizzle but the real thing is to involve all of the children in Prep-6 robotics."
Mr Wood didn't comment before deadline.