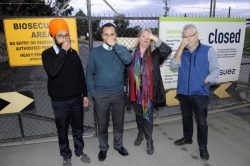 By Cam Lucadou-Wells
Officers from the Environment Protection Authority will be embedded in Casey council's offices to improve the EPA's response to pollution and waste issues.
Casey is one of 13 Victorian councils to take part in the $4.8 million, pilot program, which stemmed from an independent inquiry into the EPA.
The Officers for the Protection of the Local Environment (OPLEs) will work with the council and EPA to tackle small-scale complaints of illegal dumping, litter, noise, dust and odour at industrial sites and businesses.
Their work is expected to help EPA's regular officers respond to larger and more complex pollution reports, EPA southern metro manager Marleen Matthias said.
She said EPA's regular officers would continue to manage dust issues from the O'Grady Road, Hallam site.
"The pilot aims to deliver a more localised and faster response to local small-scale waste and pollution issues.
"It won't only be about enforcement, a major focus for the OPLEs will be providing pro-active support and compliance advice to businesses in their regions."
The trial will encourage greater co-operation between the Council and EPA, Ms Mathias said.
"EPA will work with the councils to formulate work plans for the officers that meet each municipality's local needs."
Casey councillor Damien Rosario, in welcoming the move, said it would put "more people on the ground" to tackle pollution complaints in a timely fashion.
Environment Minister Lily D'Ambrosio said the state-funded program would give practical support to councils.
"The new officers will complement the role of existing EPA based environment protection officers meaning more officers on the ground, more support and expert advice, and more investigations into compliance."
The 15-month program will begin in September.
It is part of the State Government's $162.5 million budgeted response over five years to the EPA inquiry's findings.