By Nick Creely
Finding a more determined and competitive pair of brothers than Beaconsfield's Tom and Ben Bramich would be a fruitless exercise.
Tom, 20, and Ben, 16, are continuing to take the motorsport world by storm, and both are destined to be household names in the coming years.
In the current Australian Superbike Championships, Tom currently leads the country in the Supersport 300 category with a total of 187.5 points, while Ben sits seven spots down in eighth spot with 137.5 points.
Tom – sitting comfortably in the lead, has competed around the world, something that is holding him in good stead during the middle of a gruelling season.
"I had a ride at the British Superbike Championship (BSB) which is the strongest domestic competition in the world, and then since then I've been riding in an R3 in the Supersport 300 category," he explained.
"My plan is just to finish off the season really well and continue to improve."
Tom's preparation to race requires a lot of dedication, resilience and knowledge of the bike he rides, something he relishes each and every day.
But it's all for one purpose, to race overseas in the world's most prestigious tracks.
"After every race meeting, the biggest preparation is the bikes – we have to strip them down, we clean them and do the maintenance, and I just try to keep overall really fit – not a day goes by that you don't do something in regards to racing," he said.
"I really want to race in Europe at the World Championships, not just for the racing but for the experience of it all – I feel like we're doing all the right things and we've got good people around me, so I feel it's possible.
"I've been racing for six years so I probably have more experience than the other competitors and I'm really consistent – I'm not the fastest all the time, but I'm consistent and rarely crash."
As for Ben, at 16 he is already a 2015 Australian Junior 150 Champion and the 2016 Victorian Junior Honda CBR 150 Champion.
Only four years younger than Tom, his approach to the 2017 season is slightly different.
"This year is my learning year for next year, because I will ride the Yamaha R3 in the Supersport 300 Class at ASBK and hopefully win the title, so I'm learning the tracks and the bike and next year hopefully be at the front and get on the podium," he said.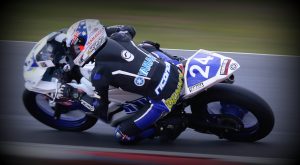 His inspiration to ride came from both Tom and his father only three years ago, and has now become obsessed with the sport.
"My dad used to race back in the day, but he stopped because he couldn't afford it, and Tom got into it and I just loved it and started riding in 2014," he said.
"I love the speed and how you have to think about how you're going to pass your opponent – it's tough to be successful because it's so expensive, you need to obviously have really good social skills and that to get sponsors to help you out."
But just who is the better rider in their eyes?
"I am definitely better than Tom," Ben said with a chuckle.
"The MotoGP is the World Championship and that's where I want to be but I'd like to get to the top of Australia before anyone else.
"Hopefully I beat Tom to it – he's obviously 20-years-old now and hopefully it doesn't take me that long."
But does Tom agree?
"I'd hate to see Ben beat me, but he's doing really, really well," he said.
"He's probably faster than what I was at his age, so he's doing a really good job."
The Bramich's rise up the charts of the motorsporting world in Australia has been aided by the support of local businesses.
"I'd like to thank Boardpro in Pakenham, Whinner Motorcycles in Narre Warren and Nelsigns in Narre Warren for their ongoing support," Tom said.