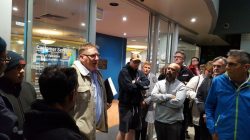 By Cam Lucadou-Wells
Casey Council has voted to support a developer's proposed roundabout at Berwick Springs Promenade, despite a gallery full of dissenters.
At an 8 August council meeting, residents held placards stating 'I OBJECT' while their spokesman Michael Ball was warned for interjecting.
The council tallied 205 formal objections to the project, which would shift and widen the existing Greaves Road roundabout and lead to the demolition of the Berwick Springs estate's bluestone wall gateway.
The decision means the council will support the proposal at an upcoming Victorian Civil and Administrative Tribunal hearing.
After the vote, residents heckled Mayor Sam Aziz, who mockingly retorted that they were "great political campaigners".
Councillor Rex Flannery, in supporting the project, apologised for his criticisms of the council in his "past life" as a Casey Residents and Ratepayers Association president and a "keyboard warrior".
"I too took to the keyboard and I threw stones at the mayor and the council.
"I'm eating a little humble pie. Now that I'm on the inside looking out I need to apologise … I realise the pressures they're under."
Cr Flannery said the council had investigated alternative sites for the roundabout to protect the estate's entry, which would cost up to $9 million.
"I can't bear that cost. My job is to save money, not to waste it."
He said the council's community consultation was "over and above" requirements, including an information drop-in session in June.
As a result of resident concerns, the developer would have to submit redesigned plans for a restored estate gateway including two tiers of bluestone wall.
The outcome would not adversely impact on the area's amenity, Cr Flannery said.
Cr Gary Rowe stressed the need to upgrade Greaves Road so VicRoads could take control and duplicate the essential connector road.
"If we don't have this road in the condition VicRoads will require, council will be responsible for $40 million of maintenance and upkeep of that road."
One option for Berwick Springs residents was to foot the $5 million cost of re-siting the roundabout in a local contributions plan, Cr Rowe said.
"It's not up to the rest of the City of Casey to bear that cost."
After the meeting, Mr Ball called for the resignations of Crs Flannery and Aziz for failing to stand up for their ward.
"Both Springfield Ward councilors claim to act on behalf of the community. I ask which community do they represent? Certainly not their own ward.
"If they won't resign, then next election Springfield Ward residents need to vote for a candidate that will listen, stand up and represent their community."
He said the residents had scored "small victories" with the required reinstatement of two bluestone walls and a reduction in the size of the roundabout.
The residents now looked forward to stating their case at a VCAT hearing on the matter.