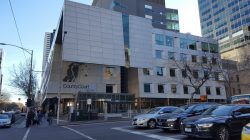 By Cam Lucadou-Wells
A 19-year-old man has been jailed for up to five years over a spree of five aggravated burglaries on homes in Lyndhurst in one night last year.
Andrew Leime, of Pakenham, pleaded guilty to aggravated burglary as well as two counts of attempted armed robbery, false imprisonment, assault and resisting an emergency worker during the spree.
Leime had instilled fear into his victims who had been sleeping in the "sanctity" of their homes between 2.30 and 5.15am on 16 September, 2016, Judge Paul Lacava said during sentencing at the County Court.
Two occupants suffered post-traumatic stress as a result of the most serious of the confrontations, the judge noted.
During the "dead of night", Leime forced entry into three homes and entered through unlocked doors at two others.
"It matters not (if doors were unlocked). People should be entitled to leave their doors unlocked," Judge Lacava said.
"You knew the homes were occupied at the time of your crimes."
Leime, who was under a youth supervisory order at the time, stole goods from some of the homes.
He evaded police for some time before they were able to "subdue" him, Judge Lacava said.
Leime spent his early childhood in a Kenyan refugee camp with his Sudanese-born parents and siblings, the judge noted.
It was a harsh environment, in which the then six-year-old Leime witnessed a beheading.
He and his family settled as refugees in Australia in 2007, he learnt English at school, was accomplished at sport and made friends. He however got into fights when being racially taunted.
In 2012, Leime spent less time at school and home, and fell into drinking and cannabis use.
He rebelled against his father's attempts to discipline him and hung with a Sudanese group that abused drugs and alcohol and committed crime.
Leime's lawyer submitted for the youthful accused to serve his term at a youth justice centre, or for an early release from jail on parole.
Judge Lacava noted that Leime had coped reasonably well with the support of other Sudanese prisoners during his 335-day stay in adult remand before the hearing.
He accepted Leime's early guilty plea as a sign of genuine remorse.
"I appreciate that you're a young offender and that I must have full regard to passing a sentence that gives you the best chance of rehabilitation.
"But balancing against that is the fact that this is very serious offending in which you have instilled fear in the victims in their own home.
"And the fact you have in the past been given dispositions designed to bring about your rehabilitation, which … you have shunned."
Leime was jailed for five years, with a minimum two and a half year non-parole period.