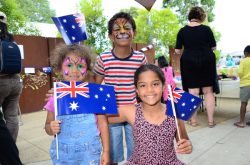 By Cam Lucadou-Wells
Casey Council has affirmed its support for Australia Day to remain on 26 January, rebutting moves from other Melbourne councils to 'change the date'.
Councillor Susan Serey, who moved the motion, said the campaign to move the date was "undermining our history and our heritage".
Concerned residents needed to be reassured that Australia Day was "here to stay" in Casey, Cr Serey said.
"We'll be making it bigger and better than before."
As someone with migrant parents, Cr Serey said Australia Day was a unifying day of celebration and commemoration.
It was a chance to reflect on the "things that make Australia a great place to live" as well as the "opportunities for everyone", she said.
Australia Day marks the landing of British settlers in the First Fleet in Sydney Harbour in 1788, a day that's also seen as marking the invasion of the Aboriginal-occupied continent.
Yarra Council was condemned by Prime Minister Malcolm Turnbull and Premier Daniel Andrews after it recently voted to no longer recognise Australia Day and to stop holding citizenship ceremonies on 26 January.
It will instead hold a smoking ceremony to acknowledge the loss felt by the Aboriginal community.
In a recent editorial, Yarra mayor Amanda Stone described the date as a "day of mourning".
"For many, it is not a day for celebration but instead marks the start of the systemic extermination of their culture."
Cr Serey's motion to back Australia Day was supported unanimously by her colleagues at a meeting on 5 September.
Councillor Rosalie Crestani thanked Cr Serey for "formalising what was in many of our hearts".
"It's an opportunity to unite us as a nation.
"Any changes (to the date) are likely to divide us."
Mayor Sam Aziz said it would be a "cold day in hell" before Casey changed Australia Day.
He said the day, which he marked with a mayoral video address this year, was the "most important day of the year to me".
He said it celebrated Australia as the "greatest nation on Earth" that had given him and his family "opportunities we couldn't have dreamed of".
It was a day celebrated with citizenship ceremonies and other events across Casey, in which joy was writ on the faces of residents.
"It's a day to be absolutely celebrated."
"They, like us, want a different day, one not redolent with tragic symbolism associated with loss and sadness but a day where we can all celebrate our nation."
Darebin Council has also since voted to move its Australia Day events from 26 January.