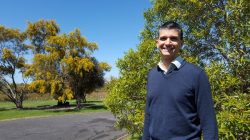 By Cam Lucadou-Wells
Labor's newly endorsed candidate for Narre Warren South is set to ward off calls that he's not a local by moving into the Casey-based electorate.
National Union of Workers state secretary Gary Maas told Star News he plans to soon move from St Kilda East into a local rental property, with a view of buying a home if he wins the seat in the 2018 State Election.
Though growing up in Springvale, Mr Maas, 47, admitted he was a newbie to the area. But he was willing to move in and to listen to the community.
The Australian-born son of Sri Lankan migrants plans to meet with migrant community groups and schools as a starting familiarisation point.
"One thing is I've got to be able to speak for this community and find out what's affecting them.
"I plan to make myself available over the next 13 months and hopefully after that as well."
Mr Maas, a former music teacher and lawyer – as well as a drummer in a "dad's band", has a platform of secure jobs, affordable houses, roads, education and representing union members.
"People wake up in the morning, and they get the kids ready for school. They want to ensure that their kids are going to a good school, and that there's a good result at the end of their education.
"When they get in the car on the road they want those roads to be good roads and leading out to where they work."
He defended the union background of himself and current MPs.
"As a union official I actually run a small business.
"I'm the head of a branch that turns over $4.5 million a year, a member-based organisation that employs over 50 employees.
"I operate under some very stringent regulation put in place by conservative governments and it ain't easy to do that.
"And I have to balance that with advocating so strongly for our members.
Mr Maas said to call him a unionist was a mere label. He said people should consider what union officials had done in their roles and the types of industries that they represented.
"The industries I've represented are everyday working people, not bank executives or senior managers, who rely on people of our skill set to ensure they get a better lot in life."
One thing that he and the NUW has lobbied for is better regulation of labour-hire companies. The State Government has recently announced it will introduce such a bill into parliament later this year.
South-Eastern Metropolitan Liberal MP Inga Peulich said Mr Maas' candidacy showed that Labor thought Casey and Narre Warren South residents weren't worthy of a local Casey candidate.
It was "another case of plum jobs for union mates", Ms Peulich said.
"Having an MP who lives 35-45 kilometres away means that Casey and NWS voters will continue to be short-changed when it comes to representation if Mr Maas is elected.
"(They) deserve better than an another union organiser on three to four times the earnings of many people in NWS getting another plum job."
Narre Warren South MP for 12 years Judith Couacaud Graley announced her resignation in August, effective at next year's State Election.