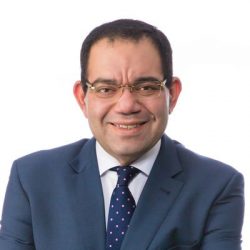 By Cam Lucadou-Wells
Casey three-time mayor Sam Aziz's career is at the crossroads if he's convicted on two charges of breaching an intervention order, his lawyer told Dandenong Magistrates' Court on 13 November.
Cr Aziz indicated he would fight the charges due to mental impairment while sending the two offending text messages in May and August.
He did not contest the facts of the case, his lawyer told the court.
His lawyer made specific reference to Cr Aziz allegedly telling police on 25 May he couldn't recall sending the text earlier that day. She described the texts as "somewhat of a rant".
"Do you understand what happens when a phoenix rises from the ashes?" he allegedly stated in the first text.
Police prosecutor Senior Constable Ryan Johnston told the court that police attending Aziz's home on 25 May described him as "visibly upset" and unable to be interviewed due to his mental distress.
After the second text, Cr Aziz allegedly told police he thought he complied with the order, Sen Const Johnston said.
The mayor apologised to police, telling them he wished he had read the order in full, the court heard. If he had, he wouldn't have sent the text, he allegedly told the police.
Cr Aziz, recently awarded the title of Casey's first emeritus mayor, was due to hand over the mayoral chains that night at a special council meeting.
He had been known for a strident hard-line approach to law-and-order issues, famously declaring that Casey was a "city in distress" and moving for the city's flag to be flown at half-mast.
The court heard that it was the third time that Aziz had faced similar intervention order-related charges. The first case was dismissed, the second case resulted in no conviction, the court was told.
The defence lawyer said that a conviction "would have a shattering impact on (Cr Aziz's) future".
Magistrate Jack Vandersteen said a non-conviction may not be "within grounds" for the third offence.
Cr Aziz was described by his lawyer as suffering from mental and physical health issues, including depression, high blood pressure, heart problems and diabetes.
He unsuccessfully sought an interim media suppression order at the hearing, arguing that coverage would affect him in his political role.
Mr Vandersteen said the case seemed to be a "standard matter" that fronted court on a daily basis.
"What distinguishes it from any other case?
"It's his profile that's the issue and (the impact on) his mental health."
Mr Vandersteen said on reading a psychological report on Cr Aziz, there were no "major psychological disturbances".
"You say there's a psychological report that goes to that issue (of mental impairment) and there's nothing here," he told the defence lawyer.
The lawyer said the psychologist would be called to give expert evidence to the court.
Cr Aziz was bailed to appear at Dandenong Magistrates' Court on 1 December.