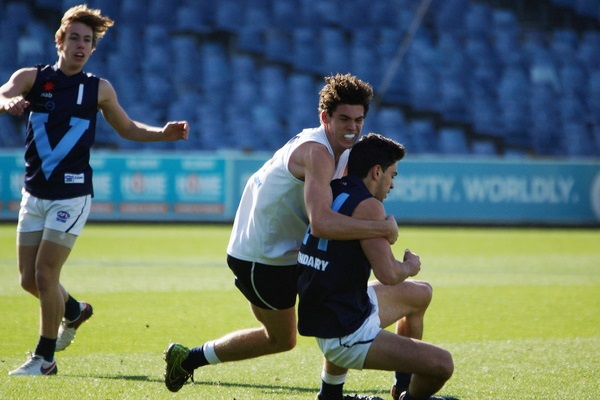 By Nick Creely
Dandenong Stingrays captain Oscar Clavarino possesses genuine leadership, an ability to read the ball as well as anyone in the air, as well as razor sharp foot skills.
These traits will ensure the Berwick youngster will be a valuable commodity when he lands at an AFL club on 24 November.
The 18-year-old enjoyed a strong season for the Stingrays, Haileybury College and Vic Country, with Clavarino marshalling the defence, and averaged 16 disposals and six marks a game in his eight TAC Cup games.
He believes he has done everything he can possibly do, as the AFL draft looms closer and closer with each passing day.
"I have no regrets this season, I put everything into it, and got a fair bit out of the year – while some games weren't as good as others, I think it was a big learning curve, and in this stage of my footy life, it was good to have those games to see where I need to get better," he said.
"I was happy with how I performed and how the season panned out."
While unsure about where the next phase of his footballing journey will take him, Clavarino explained his level-headed approach to the draft.
"I haven't thought about it a heap (the draft), but people still ask me about it, so of course it'll be in the back of the mind – when people ask me, I say I'm nervous but I haven't really thought about it," he said.
"Not a heap of my friends are into footy, so it's good to hang out with them and get a bit of a break about it, to be honest.
"As it gets closer, it'll get a bit more nerve-racking each day."
And with the possibility that he may need to move out of his comfort zone to forge an AFL career, Clavarino will relish the challenge.
"Speaking to interstate clubs and most clubs that will mean I have to move out of home, opens me up to what path comes next – my family supports me and is open to the possibility that it could happen," he said.
"I don't really know what will happen, so I'm just open to what can happen, and I'll take it on with everything I have."
The key defender believes he can play a similar role to that of Melbourne's Jake Lever at AFL level, while also blending in the leadership he has crafted on and off the field.
"I try and think I can play a similar role at AFL level to what I do now, a key defender that has the ability to intercept and be that attacking defender who can hurt the opposition," he said.
"Leadership is something I've always grown up wanting to do, and I've always had the passion to do it – if I'm lucky enough to play AFL, it will be something I naturally bring, rather than try too much.
"With a couple of leadership roles in a couple of teams this year, it really brought the best out of me, and it was a great learning curve for me."
With Clavarino one of eight potential draftees in the upcoming draft, he is excited and thrilled to be sharing a journey with his mates.
"It's awesome to see guys that I've come up with in the Under 16 really develop and finally start to get a lot of reward – from the club's point of view, it's just exciting," he said.
"We probably haven't had a draft quite like this probably ever, so eight possible draftees is an incredible effort."
The draft will be held at the Sydney International Showground on 24 November.
PLAYER PROFILE
POSITION: Key Defender
DOB: 22/05/1999
HEIGHT: 195cm
WEIGHT: 86kg
DRAFT RANGE: 30-50
POSSIBLE CLUBS: West Coast (Pick 32), Geelong (35), Collingwood (38), Brisbane (40), Hawthorn (43), Melbourne (47)