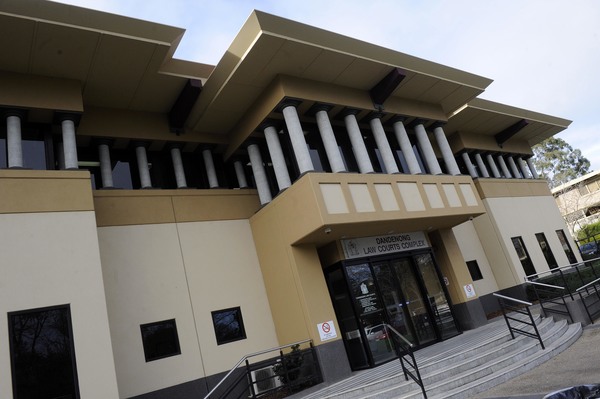 By Cam Lucadou-Wells
An ice-addicted woman has held a knife to her 10-year-old daughter's throat and held her hostage during a supervised contact visit at a government office in Dandenong, a court has heard.
The woman, 38, who cannot be legally identified, was visiting her child under the supervision of a child protection officer at the Department of Health and Human Services on 4 October.
She had been involuntarily admitted to hospital for a drug-induced psychosis just two months earlier.
In a visitation room, the daughter showed her colouring book to her mother, who asked if she needed a pencil sharpener.
The woman rose slowly, grabbed the girl from behind, put a knife to the girl's throat and dragged her towards the door.
The woman repeatedly told the officer in the room that she was going to slit the girl's throat.
"Mummy, are you going to hurt me?" the girl asked.
"Yes, I'm going to kill you and kill myself."
The woman tried to use a table to barricade the three of them in the room while staff called police. The girl tried to break her mother's hold.
Police managed to pull the daughter to safety and subdued the mother with capsicum foam.
While in custody, the woman later self-harmed by biting her wrist.
Two weeks later, while in remand, she breached a family violence intervention order by phoning and writing to her daughter.
Police prosecutor Leading Senior Constable Kerryn Savin told Dandenong Magistrates' Court that the daughter had been taken into child protection earlier this year due to neglect and abuse from her parents.
The woman had no prior convictions but an "unfortunate" childhood and family history, her lawyer Daniel Walsh said.
During her 62 days in remand custody, drugs had "freed from her system", Mr Walsh said.
She had since shown remorse, pleaded guilty and accepted her delusions at the time were unfounded and untrue, he said.
She was willing to undergo any treatment and directions to be the "best mum she needs to be".
Magistrate Pauline Spencer said the charges including threats to kill, reckless conduct endangering serious injury, and false imprisonment were serious and grave.
It was a serious breach of trust between her and her vulnerable child in what should have been a "positive" visit, Ms Spencer said.
"This was an attack on your child. It was sustained over a period of time in the context of a supervised … contact visit.
"She was in care and everyone was trying to work towards her situation being normalised as much as possible."
Ms Spencer noted the girl's resilience in her victim impact statement. The officer stated he was profoundly impacted by the incident in carrying out his work and everyday life, she said.
The woman's moral culpability was very high, given she knew her mental illness was induced by drug abuse.
In sentencing, there needed to be a "clear message" to parents to act appropriately during supervised visits, Ms Spencer said.
She rated the woman's rehabilitation prospects as good, if her drug use was curtailed.
"There have been efforts before when you were admitted (to hospital) in August and wasn't followed through."
Ms Spencer indicated the woman would be jailed for 12 months followed by a 24-month community corrections order.
Final sentencing will follow a community corrections assessment at Dandenong Magistrates' Court on 11 December.
If you need help call Lifeline on 13 11 14.