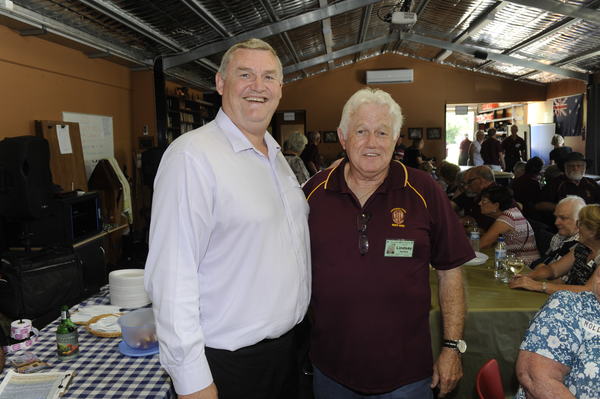 By Cam Lucadou-Wells
More than 100 friends of Akoonah Park Men's Shed shared festive cheer with an impressive Christmas lunch spread.
A colossal mix of meats and salads were prepared by the shed's resident chef, with crooning Christmas tunes delivered by smooth singer 'The Real' Paul Hogan.
There were also plenty of cold drinks to help diners cope with the sizzling sunshine at the 30 November lunch.
One of the attendees was John Strachan of the Prostate Cancer Foundation – which has been educating and supporting the shed's men for three years.
The message for men to get regular check-ups was getting out there, but still many were leaving it too late.
"Our message is to find out your family history. If you've got a family history (of prostate cancer) start getting tested at 40."
Otherwise, men could take precautions by watching their weight and diet, not drinking excessively and stopping smoking.
The foundation has recently funded a prostate cancer support nurse at Casey Hospital, Mr Strachan said.
In turn, the shed has raised funds for the foundation's prostate cancer research and support funds.
Also in the crowd were Victorian Men's Shed Association secretary Dave Mudge and vice-president Barbara Look – who recently broke the proverbial 'glass ceiling'.
Ms Look said she was mindful that the sheds were formed for the sake of men's health. She felt honoured to be part of the association's board.
Mr Mudge jokingly added that the use of language had improved in Ms Look's presence.