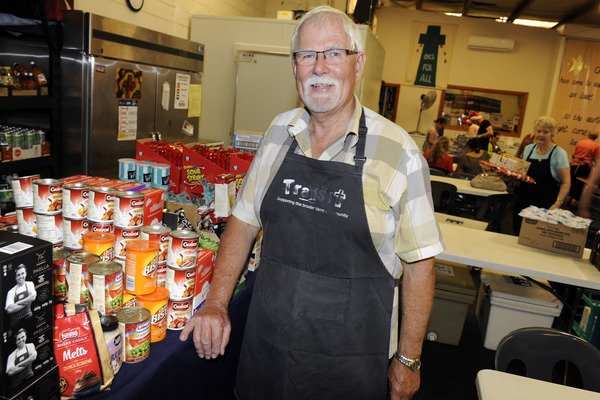 By Cam Lucadou-Wells
Each week a desperate underclass in Casey gives thanks to Pastor Keith Vethaak.
He leads a band of busy volunteers who provide a last resort for food for families in need.
While Christmas signals a time-off period for many, it's Mr Vethaak's busy period.
That's when he can expect more than the usual 1400 families a week visiting Transit Soup Kitchen for groceries and a warm, sit-down meal.
They need toys under the tree for their kids while struggling to pay the rent, mortgage and utilities.
Mr Vethaak – with 100 "amazing" volunteers – are there for them every week of the year.
It's part of his faith, trying to follow Jesus's example of standing with, caring and helping the downtrodden.
"It's something I love doing," the Star News 2017 person-of-the-year explains.
"We really want to treat people with respect, and train my staff to see every human being has value."
In some cases, volunteers help provide jobs for the desperate. Centrelink workers start to hang out and get to know their "clients" personally.
"They can then help them so much better," Mr Vethaak finds.
After 43 years of pastoral work in Tasmania, Narre Warren and Berwick, Mr Vethaak is meant to be retired.
But the 67-year-old still occupies himself at least five days a week picking up food from farmers, suppliers, supermarkets and charities, doing the administration and welcoming those who seek Transit's help.
When Transit started a decade ago, there was a gaping void of charitable kitchens in Casey's north. Just 15 diners turned up for the first sitting.
The need has exponentially increased to thousands a week, he says.
The kitchen has started running a new Thursday program for families with school-aged children.
More of these families are becoming homeless, living in cars or caravan parks because they can't afford rent. They are the most vulnerable in the community, Mr Vethaak says.
"There's a level of desperation (in the community) that I haven't seen before.
"The cost of living – like petrol and rents – has crept up.There's no spare money to buy Christmas presents.
"It's nearly inevitable that interest rates will go up. When that happens, it's going to be horrific for young families."
He likes the recently-introduced state tax on vacant properties – it could help create more housing stock and drive down rental prices.
Meanwhile, he is one large strand in Casey's safety net. Just a volunteer who wanted to keep the 'Christ' in Christmas.