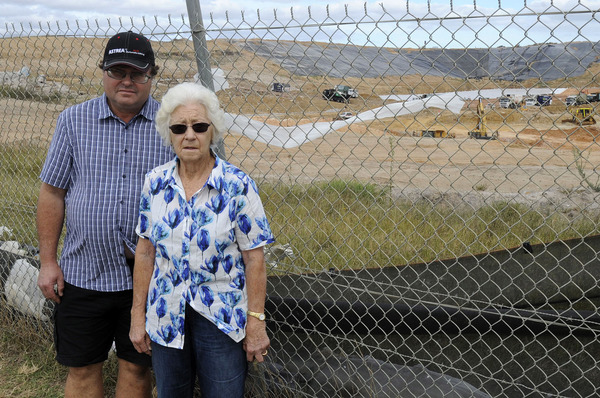 By Cam Lucadou-Wells
The state's pollution watchdog is investigating stray rubbish from Hampton Park's landfill that has blown onto a neighbouring farm.
The farm's owner Lindsay Anderson says it has been far from a one-off, claiming SUEZ's Resource Recovery Facility's garbage has escaped the tip's six-metre litter screens regularly over the past 18 months.
He says at least one of his cows has died from ingesting the plastic litter.
"What comes with that garbage on our property in terms on contamination … we don't know where it's been or where it's been sitting.
"We've found rubbish strewn across 60 to 70 acres.
"It's no wonder we're frustrated."
Despite developers eagerly snapping up land throughout Casey, Mr Anderson said he'd been unable to sell his property because of the tip's presence.
"You ask the neighbours about the smell. There's not a day goes by when you don't know it's there."
Recently extended buffer zones surrounding the tip's landfill cells have also claimed part of his property, he said.
Environment Protection Authority Victoria is investigating after one of its officers observed the litter on the farm on 2 March.
Under SUEZ's licence with the EPA, waste cannot be "discharged, emitted or deposited" beyond the landfill site's boundaries.
SUEZ state general manager Kelvin Sargent said litter recently escaped the tip due to an expected weather change and increased winds on the week of 26 February-2 March.
Mr Sargent said the tip operator notified EPA "as soon as we became aware of this happening".
SUEZ is now working with Mr Anderston to clean-up the litter, he said.
"SUEZ strives to maintain the highest standard of environmental outcomes for our operations," Mr Sargent said.
"We are currently reviewing this incident and we will be identifying any improvements to avoid this in the future."
The tip has been plagued by public complaints in recent years.
In September, the EPA fined SUEZ nearly $8000 for issues such as exposed waste at the landfill and odour complaints from neighbours.
It had been the subject of three Pollution Abatement Notices in the past two years and an EPA enforcement action in 2012.
Suez has a planning permit from Casey Council to operate the tip until 2040.