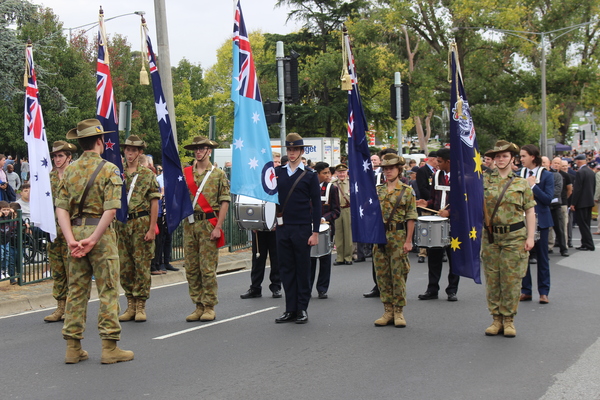 By Rowan Forster
Thousands gathered in Berwick on Anzac Day to remember those who sacrificed their lives for the sanctity of Australian life.
High Street was closed to traffic throughout the day as cadets, soldiers, veterans and students marched through the crowds with flags, rifles and instruments in tow.
The 11am service concluded with a picturesque fly-by from the Australian Air Force – signifying the beginning of the parade.
Early estimates suggest at least 3,000 people attended.
Berwick RSL president Wayne A'Vard addressed the community, citing the importance of the commemoration."It's important on this day to remember those who served and the sacrifices they made," he said."We will always remember those who suffered in the war, those who died and their families."After the service, sizable queues formed at the cenotaph where residents waited to lay wreaths and poppies.
For Michelle Jenkins – commemorating the heroic actions of the Anzac soldiers was a "must".
She told Star News of her son's personal experience when he was dispatched from Darwin and deployed to Iraq in 2003.
"I've never felt so scared in my life – it gave me extra insight as to what their families must have gone through," she said.
"When he justified it to me, he told me, 'I'm a solder and I chose to do this', which made me so proud."
Her son returned from the deployment physically unscathed, but the tenure took a toll on his emotional state.
"He didn't want to talk about it for so long," Ms Jenkins said.
Fortunately, Ms Jenkins' son later overcame the trauma and has since turned over a new leaf.
Berwick RSL has also been conducting commemoration services in aged care residences and schools in the lead up to Anzac Day.
The service was just one of many held across the Casey-Cardinia region.