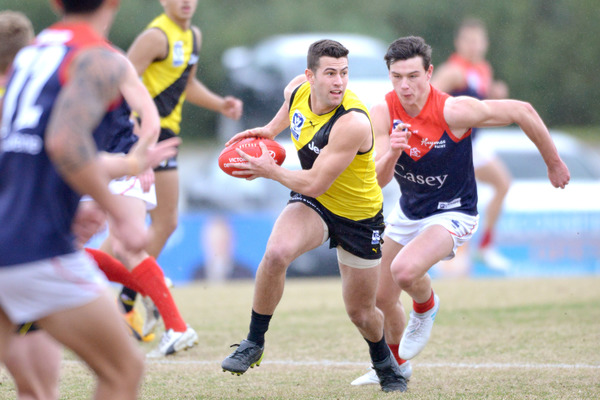 By Hayley Wildes
The VFL Tigers are heading to Beaconsfield.
Those who want a great day of football action will want to get to Holm Park Reserve in Beaconsfield on Saturday.
The day begins at 9am with under-19 interleague action between the South East Football Netball League and AFL Yarra Ranges, before the seniors face off at 10:50am.
Then Richmond takes on Sandringham at 2:10pm in what promises to be a cracking VFL contest.
Richmond has built a strong connection with the Cardinia Shire over recent years and the team has fond memories of playing at Holm Park in 2017.
The Tigers defeated Casey last season in Beaconsfield and Richmond coach Craig McRae talked about that experience.
"We really enjoyed coming out to the Cardinia Shire – it's important to the Richmond Football Club." He said.
"Along with Melbourne, we've both got a lot of supporters in the Cardinia Shire and it's a good opportunity to come out and show our appreciation. We've got good memories and the facilities are awesome, so we're looking forward to it."
The Tigers are off to a flying start in season 2018, much like the AFL squad, having dropped just one game. And there are plenty of stars lining up in the VFL for Richmond fans to watch out for.
"We've got a lot of young, aspiring AFL players and there's some player's people would know like Brandon Ellis – a premiership player – who has played in the VFL the last two weeks, Anthony Miles and then our first year draftees." McRae said.
"We'd love to think that in the last two years in particular, our VFL program has been a solid foundation for our AFL success – there are a lot of players developing, waiting for their opportunity. Last week we had 14 AFL players and there could be more potentially back from injury this week."
A big potential inclusion for the Beaconsfield match-up is premiership star and excitement machine, Daniel Rioli. Rioli hasn't played since the AFL Grand Final due to a broken left foot and has been listed as probable to play limited minutes this week.
Richmond's AFL game plan is built around pressure and it won them a premiership in 2017. McRae said fans can expect that same manic intensity on Saturday.
"Yes, every week [we want to bring that pressure]. We mirror everything that the AFL program does – we mirror our game plan, our preparation, our coaching structure – it's all the same as the AFL." He said.
"We take great pride in that and if you come and watch the VFL, you'll see the same stuff."
Richmond members receive free admission all day, while entry is $10 for adult non-members and $5 for child non-members.