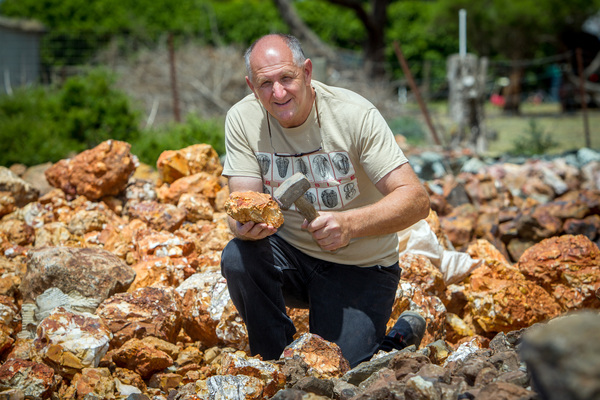 By Cam Lucadou-Wells
A world-renowned geological business in Devon Meadows may shut down as a result of a planning dispute with Casey Council.
Crystal World and Prehistoric Journeys boasts more than 300 tons of specimens including crystals, dinosaur fossils and meteorites stored and sold from the site.
The import-export business, with rock cutting and polishing operations, however has been deemed unlawful by planning authorities.
Owner Thomas Kapitany says he's operated the business from the site since the year 2000, before the land was re-zoned to Green Wedge A.
The trade is worth "millions" of dollars to the local economy, as well as employing 20 staff, he says.
He's consulted and supplied museums around the world, trains geology students and travels 10 months of the year following his "hobby" and "lifestyle".
"I'm too old to set up a new business and relocate – I don't need it.
"I can't imagine the council will be stupid enough to close it down.
"If they do, the council will be embarrassed all over the world."
The dispute began when Casey Council refused an application for Crystal World for a certificate of compliance for the business in January 2017.
It was part of a bid by Crystal World to extend its warehouse, gallery and showroom.
Mr Kapitany then applied for a decision review at the Victorian Civil and Administrative Tribunal, which ruled against him on 24 April.
At VCAT, Mr Kapitany argued that Crystal World qualified for an exemption from Green Wedge rules due to operating continuously for longer than the '15-year-rule'.
He produced a business registration record dated 1999, with the Devon Meadows site listed as the primary address.
VCAT member Picha Djohan said Mr Kapitany's evidence was not sufficient to establish the continuous nature of the business for 15 years prior to March 2017.
"A business registration document of itself cannot prove the nature of the business being conducted … or that a business is occurring at all."
Ms Djohan said it could not be established that the business in its described form began until 2008 when a new shed was built.
Mr Kapitany said he simply didn't keep paperwork that far back, just retaining documents for the minimum seven years for taxation puposes.
He claims he had been targeted by a "vindictive" Casey planner who wanted to shut down the business.
Casey mayor Geoff Ablett described the situation as a "mess" that should have been sorted out before the VCAT decision.
"It's just a shame. I don't know why they went to VCAT before sitting down with myself and our planners."
Casey statutory planning and building services manager Duncan Turner said the owners had not had planning permits to use the land for warehousing or retail sales. Those uses were prohibited in the Green Wedge, he said.
"Following the verdict of VCAT, the land owner will now need to comply with the decision and the State Government provisions applicable to a Green Wedge Zone."