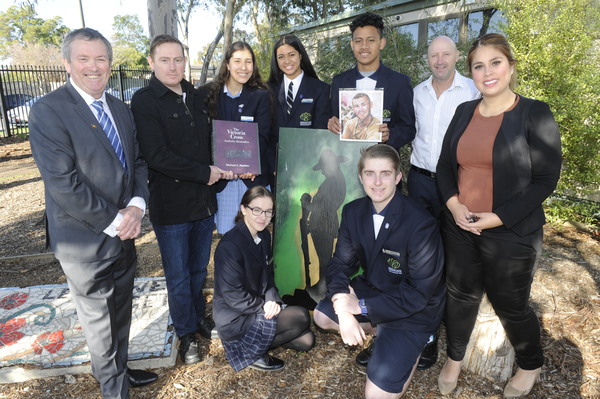 By Cam Lucadou-Wells
A locally-penned classic of military history has passed through the hands of Queen Elizabeth II, Prince Charles and now the students at Fountain Gate Secondary College.
The school was presented a donated copy of the spectacular The Victoria Cross: Australia Remembers on 5 June by Casey councillors Rex Flannery and Susan Serey as well as the book's author Michael Madden.
Mr Madden, of Berwick, was impressed by the Fountain Gate students' enthusiasm for Australia's 100 recipients of the highest award for military valour.
"It's encouraging to find young people so interested in military history."
Days ahead of the recent Royal wedding, VC recipient Keith Payne presented the first and second printed copies to the Queen and to Prince Charles.
Interest in the book has been wide, including the VC families and military historians. Just 40 of the 400 printed copies are yet to be sold, with an audio edition in the pipeline.
Casey Council estimated that the free public launch at Bunjil Place on 21 April attracted 620 participants, with about 280 books sold on the day.
In all there were 4000 visitors, including 1000 into the library that day.
Cr Serey convinced Mr Madden to move the launch from its original venue at the MCG.
She told a council meeting on 5 June that the Bunjil Place-staged day was a "fantastic event".
It attracted VC families from across the state and nation, including Mr Payne – one of four surviving Australian VC recipients, she said.
Mr Madden said the venue – together with the timing just ahead of Anzac Day – was perfect. It opened the launch up to the local community and families, he said.
"It was such a fine day, a perfect storm.
"It was absolutely the right decision."
The stunning fly-over by four Yakovlev Yak-52 and North American T-6 Harvard aircraft was typical of the good will.
The pilots volunteered their services, paid for their own fuel to take part. One even defied orders to call off his take-off due to fog over the landstrip.
As the planes seared over Bunjil, each dipped a wing in salute to Mr Payne.
For as Mr Madden says, even the highest-ranking military officers salute VC recipients.
All proceeds for the book were donated to the charity Totally & Incapacitated Ex-Servicemen and Womens Association of Victoria.