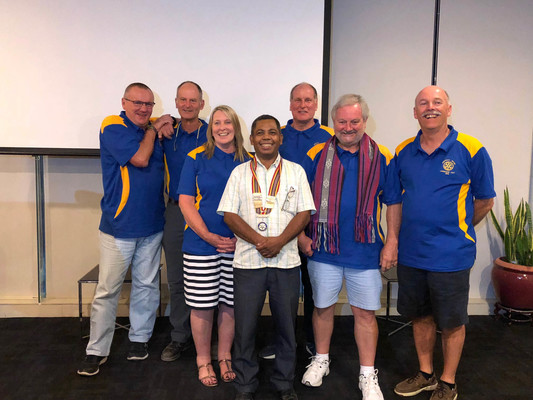 What happens when a train driver, an arborist, a retired builder, a boat salesman, a finance broker, a teacher and a nurseryman go on holidays? Magic happens!
Rotary does great projects both in Australia and all over the world.
Rotarians from the Rotary Clubs of Berwick, Pakenham, South Melbourne and Keilor. Rotary does great projects both in Australia and all over the world.
The projects Rotary are working on in their overseas adventure are in the Balibo region of Timor Leste.
Timor Leste is a new developing nation, with very little resources and a strong need to develop education and health.
Two years ago, Rotary funded a dental clinic in Balibo House.
This clinic was important because there had never been a dentist in that area. The clinic is now fully functional with two trained dental nurses doing routine dental work.
Australian volunteer dentists visit the clinic to do the more technical work while Timor Leste dentists are going through medical school.
Much of Rotaries work in Balibo started back in Berwick with the collection of surplus equipment from locals schools and hospitals. This includes desks and chairs, filing cabinets, hospital beds and dental equipment.
The used equipment is delivered to the Rotary Donations in Kind warehouse in Footscray West. This equipment could go anywhere in the world.
"Having a team of rotarians from a wide range of backgrounds working together to load a truck with odd shaped stuff is something to see," Berwick rotarian David Button said.
"It is a part of a unique Rotary experience!"
Many Rotary clubs also buy pencils and exercise books in bulk to give to Donations in Kind so they can be used in schools, including the ones in Balibo.
The focus of this trip was to assess the performance of each project Rotary has in Balibo. Rotary is involved in the dental clinic, the medical clinic, computer training, local schools and kindergartens.
"Our focus is education, healthcare, water and sanitation," Mr Button said.
"We are also creating opportunities for employment and we have managed to make a start with the dental clinic, a small convention centre at the Balibo Fort and the construction of a new school at Belola.
"The population of Balibo is set to increase by 400-500 people annually, so we have our work cut out for us.
"This is just one small part of what Rotary does to make the world a better place while having a lot of fun and friendship along the way."
There will be a presentation of this project at the Rotary Club of Berwick, Holm Park Reserve on Wednesday, 29 August at 7pm.
If you would like to attend or to learn more about Rotary please contact attendance@rotaryberwick.org or visit the website at www.rotaryberwick.org.