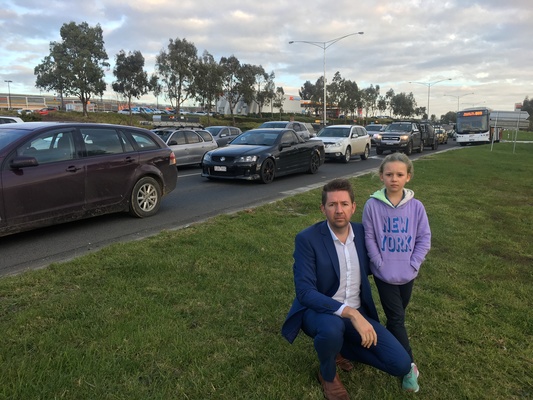 By Jessica Anstice
Clyde Road has been causing more and more headaches as time goes by with the terrible traffic congestion causing people to run late for work, appointments and school drop offs.
Cybera Digital's manager of Projects and Marketing Michael Machado travels from Lang Lang to for work every day, along Clyde Road.
"Every morning this week I have been late into the office because of the traffic on Clyde Road and I've definitely noticed it's gotten worse over the last few months," Mr Machado said.
It usually takes Mr Machado around 35 minutes to get into work during peak time, for the last few weeks it has taken closer to 45/50 minutes, sometimes even an hour on a bad day.
"Compared to during the day this is pretty bad. If I was to leave the office at around lunchtime when there is a lot less traffic, I can make it home in less than half an hour," he said.
"Clyde Road seriously affects travel times. I usually work 8am to 4pm and I have to drop my son off at kinder on the way into work.
"If I get to Clyde Road at around 8am, I fully expect that from Eden Rise onwards will add another 15 or 20 minutes to my journey.
"It's just as bad on the way home too and I have often been reprimanded by my son's kinder for collecting him past the cut off time due to being stuck in traffic on Clyde Road."
Mr Machado said he has tried a couple of alternate routes and some make a difference, some don't.
"The main issues for me are that now that they have implemented the ramp signals to access the freeway, it builds up the traffic even more because you have access from Clyde Road in both directions.
"I'm not sure what can be done to ease the congestion, perhaps adding another lane to Clyde Road, but this will obviously take time and money and is not a time-friendly solution.
"It definitely has an impact on my other employees too, some of which live a 10 minute drive away."
Mr Machado said it impacts his business somewhat as they have clients coming in for meetings and they have trouble accessing the building because of the traffic build up, resulting in them being late for appointments.
John Batty, manager at Burdens Bathrooms said Clyde Road is effecting his businesses delivery times.
"I have delivery drivers that go up and down Clyde Road every day and some days we have to add half an hour travel time to get out on time," he said.
"We get deliveries banking up and I have customers coming in store to buy things and when they get here they say, "It's taken me half an hour to get from the Princess Highway to here." It adds up.
"It's madness, the train lines, there are way too many traffic lights, and being the biggest growing corridor of South East corridors, there is only one way in and one way out."
Mr Batty lives in Berwick Springs, not even five kilometres from his work.
He starts work at 6.30am, missing the morning rush. However he finishes at 5pm, which means he cops the worst of the traffic.
It takes Mr Batty five minutes to get to work and to get home; it can take him up to 20 minutes.
"Lots of us here at Burdens leave here at 5pm. One colleague lives in Cranbourne South and says Clyde Road needs to have double lanes all the way through to South Gippsland Highway," Mr Batty said.
"People say it's the biggest growing housing corridor in the world and something needs to be done to take some congestion off this road.
"The government needs to act now."
Paul Williams commented on the Berwick Star News Facebook page, "Clyde Road is a no go zone from 8am until 9.30am and then from 3.30pm to 6pm."
Berwick resident Kim Manson works on the corner of Clyde Road and Landmore Lane and lives four and a half kilometres from her work.
"In peak hour, it's actually quicker for me to ride my bike to work rather than drive," Ms Manson said.
"It takes about 20 minutes to drive the four and a half kilometres down Clyde Road."
Another Berwick resident, Matt McMaster said, ""I prefer to take a one hour train ride to work rather than drive into the city. "I avoid Clyde Road whenever I can."