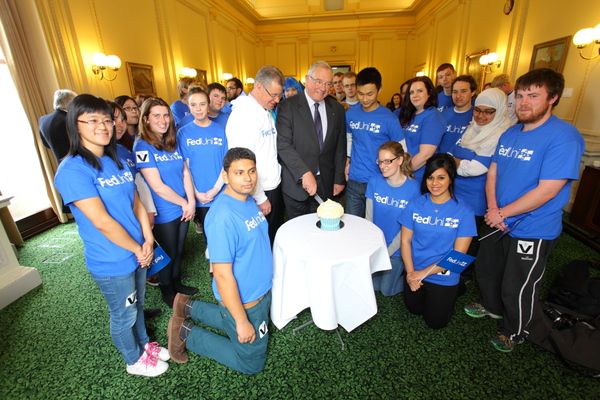 Dr Paul Hemming AO has announced his retirement from his role as Chancellor of Federation University Australia.
Dr Hemming joined the University Council in 2007 and was appointed Chancellor in 2012.
He presided over the University's name change in 2014 when the institution, formerly known as the University of Ballarat, became Federation University Australia (FedUni) after expanding its reach into Gippsland. Since then new campuses have been launched in Berwick and Brisbane, and the university has undergone significant transformation.
He was appointed Chair of the Federation University Australia Foundation in 2012 and became Patron in 2016.
"There have been many challenges and highlights over 11 years, but conferring awards on thousands of our graduates, especially our first cohort in Gippsland, will always hold a place in my heart," Dr Hemming said.
"It is so rewarding to engage with students from all our campuses, and to feel the excitement and expectation as they progress into careers where they can contribute so much into the communities where they studied."
Professor Helen Bartlett, Vice-Chancellor and President, paid tribute to Dr Hemming for his unwavering support of the university during his six-year tenure as Chancellor.
"Paul is an extremely dedicated and giving person. His service and commitment to FedUni have been exceptional," she said.
Deputy Chancellor, Mr Steve Davies, said the University Council was grateful for Dr Hemming's guidance and strong leadership during a time of considerable change.
Before becoming Chancellor, Dr Hemming, enjoyed an outstanding medical and professional career. He was appointed an Officer of the Order of Australia (AO) in the 2018 Australia Day Awards for distinguished service to higher education administration, and leadership in medicine and general practice.
Dr Hemming's last day will be Friday, 12 October, and while he is looking forward to the next chapter in his life, he says some habits will be hard to break.
"I'm going to enjoy being at home and spending more time with my wife Linda and our family, especially our six grandchildren, but I will continue to take a keen interest in the University and its achievements," Dr Hemming said.
The University will announce a new Chancellor in the coming weeks.