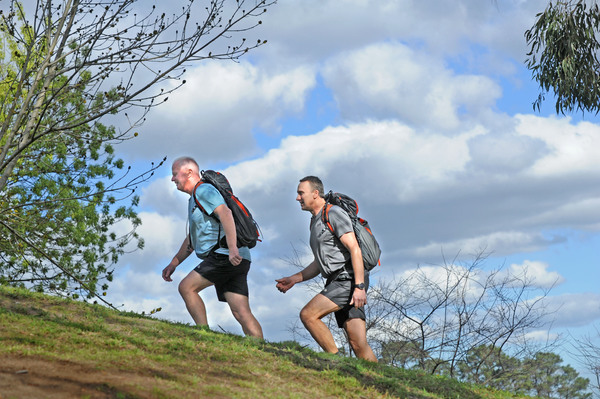 By Jessica Anstice
The Kokoda Track has been on Berwick's Michael Molloy and David Mounsey's bucket list for several years, so when the Association of Financial Advisers (AFA) decided to coordinate this trek they decided to jump on board.
The AFA Foundation also supports a number of charities including Legacy, The Black Dog Institute, MS Organisation and the Make a Wish Foundation, and the two men thought these organisations were very worthy recipients of the publics' very kind donations.
They have also decided to walk the 96km Kokoda trek in honour of our WWII heroes who went over to Papua New Guinea as young men and women to defend the country from the Japanese infiltration back in 1942.
This trek will be led by Brian Freeman, world adventurer and founder of the carrying 41 Tribute which raises awareness of veteran suicide and PTSD.
There are 12 trekkers together with 25 support staff and porters (Fuzzy Wuzzy Angels) going on this trek.
Mr Molloy has previously done the 100km Oxfam walk through the Dandenong's which took about 24 hours to complete.
"It was very gruelling, but I think this Kokoda trek will be a lot harsher due to the humidity and very steep harsh terrain," Mr Molloy said.
"The 96km Kokoda trek will take us approximately seven days to complete and our only goal is to finish."
Initially the 12 trekkers set a target of $40,000 for the four charities noted, but the support from the public has been overwhelming and the current amount donated to date has been $97,000.
Their new target has been set at $100,000 with less than a week to go, so we urge you to get on to the links outlined below and donate generously to the MS Organisation, a charity dear to their hearts.
"The reason David and I have chosen the MS Organisation is that I have a friend and David has an Uncle that have been diagnosed with this debilitating disease, and every cent donated may mean they get closer to finding a cure," he said.
The men have been training three mornings a week up around the 1000 steps area for approximately three hours a session commencing at 5.30am in the morning in Melbourne's wintry conditions, and a five to six hour walk every weekend up to the top of Donna Buang which has been very gruelling, very cold but necessary training in readiness for their Kokoda trek.
"With all the negative press at the moment about Financial Institutions and Advisers at the Royal Commission enquiry, I hope the public can see some of the positives and good things that our industry gives back to very worthy charitable organisations outlined," Mr Molloy said.
"So in finishing our trekking party will be leaving for Papua New Guinea this Friday, 24 August to complete this walk for our very worthy causes."
If any of the public would like to donate to our favourite charity please click on either of the links listed below as every dollar will make a difference.
https://give.everydayhero.com/au/michael-molloy
https://give.everydayhero.com/au/david-mounsey