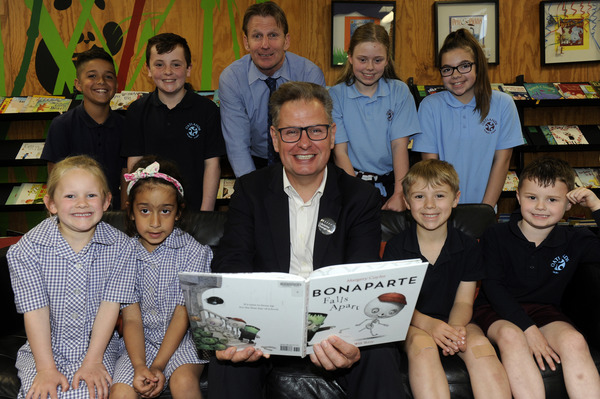 Casey Cardinia Libraries CEO, Chris Buckingham went back to school on Monday, 8 October, but not as you might think!
Donning his principal's mantle and bearing a flexible timetable, Mr Buckingham attended Oatlands Primary school on as part of the Principal for a Day program.
Mr Buckingham spoke with students and teachers in classrooms and special programs; and met with the school leadership team to discuss how schools and public libraries can work more closely together.
"Principal for a Day is terrific opportunity for business and community leaders to engage with local schools," Mr Buckingham said.
"I really appreciated the chance to work with Wes Holloway and the Oatlands PS and learn more about how local schools work."
Principal Mr Holloway said, "We are happy to be hosting Chris at Oatlands Primary School – we understand the vital role public libraries play in our community supporting early literacy and encouraging lifelong learning."
The Principal for a Day program is run in state primary, secondary and special schools across Victoria. The aim is to increase understanding and awareness of the vital importance of strong partnerships between schools, business and the community.
It is managed by the Australian Council for Educational Research and is funded by the Victorian Department of Education and Training (DET) through the Bastow Institute of Educational Leadership.