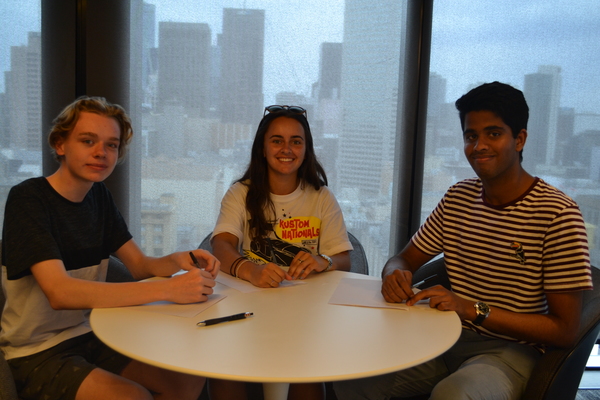 Getting into university can be tough.
What to study, where to study it, what is work going to be like once all the study is over? For a young adult in high school, the information on offer can be overwhelming.
Doxa's University Pathways Program is a multi-year, multi-touchpoint program that provides students with first-hand experience of university life and a taste of the world of work.
Five Fountain Gate Secondary College students participated in the program, including Year 12 student Jagdeep Singh.
"I found out about Doxa through my school; I love the program because it's so insightful and you get so many opportunities," he said.
"You get many free opportunities to get an insight into university pathways and it's an extremely social program.
"Through participating in Doxa's University Pathways Program we get to know about all these different pathways and career opportunities. We are always one step ahead of the average student, which is always good because you have more time to prepare yourself and don't have to rush into decisions."
Mr Singh said he is interested in studying biology.
"It's my favourite field of science. I'm looking at going to Melbourne or Monash but after visiting ACU with Doxa, it's an option too," he said.
"As long as I'm doing something in biology from pharmaceutical science to biomed."
The University Pathways Program is open to young people with challenging life circumstances who are in years nine – 12 of high school and are interested in continuing their education at university.
It supports young people to attend university and gain the skills for an employable and rewarding future.
Participants in the program come from a variety of challenging backgrounds. Everyone is different, but this could be financial difficulty, family trauma, being culturally and/or linguistically diverse, being from Aboriginal or Torres Strait Islander background, or a refugee and/or migrant background.
Students in Year 12 from around Victoria including Geelong, Gippsland and across Melbourne recently took part in two University Pathways Program sessions.
Students developed their personal, professional and employment skills by visiting universities and corporate workplaces across Melbourne CBD including BT and ACU University.
They also met professionals from across the not-for-profit sector in a NFP round robin session.
Since its inception in 2015, more than 800 young people have participated in the Doxa University Pathways Program.
Doxa CEO, Steve Clifford, said, "At Doxa, we offer support for young people from challenging life circumstances and give them opportunities they may not otherwise have access to.
"We offer invaluable networking opportunities, and develop students' enterprise, employment and personal skills that will help them succeed in university and in the workplace."
To get involved or for more information on the University Pathways Program please visit www.doxa.org.au.