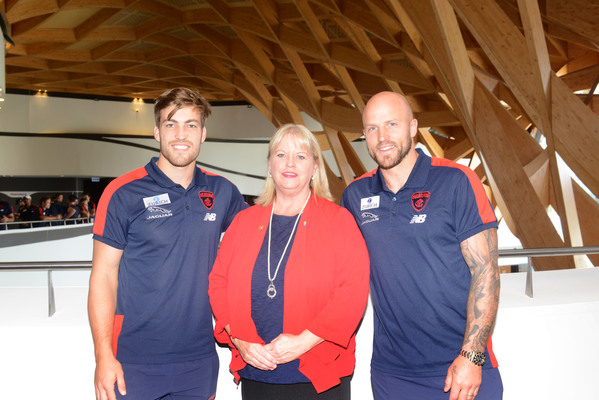 The City of Casey and Melbourne Football Club (MFC) marked the 10th anniversary of their partnership with a celebration at Bunjil Place on Wednesday 13 February.
Council and MFC proudly embarked on a 30-year partnership in 2009 and since then have been working together to promote and engage the community in sport, create talent pathways and provide unique opportunities for residents.
A special anniversary celebration was held at Bunjil Place on Wednesday, before the free Family Fun Night with the Melbourne Football Club took over the plaza.
The whole playing list was in attendance, meeting local families, running football activities and challenging those that were up for it in games, including Mario Kart on the big screen, table tennis and basketball.
There was free ice cream, face painting, music and a screening of Jumanji 2 on the big screen after the event, making for a great evening out.
City of Casey Mayor Amanda Stapledon said council was proud of the many positive outcomes the partnership has created in its first 10 years.
"For the past 10 years, this partnership has been pivotal in engaging our diverse and rapidly growing community in sport and physical activity, either as spectators or participants, from Casey Fields to the MCG," she said.
"We have a fantastic venue in Casey Fields, enhanced in no small measure by Melbourne having such a strong presence there, bringing elite football to Casey and providing great opportunities for our community.
"I trust that the partnership will continue to grow, making Casey a vibrant place to call home and continuing to bring elite sport, talent pathways and fun events and opportunities to our community."
One of the major milestones for the partnership was the significant redevelopment of the VFL pavilion at Casey Fields in 2010, funded by council, MFC, AFL and the State Government.
The $2.1 million project delivered an AFL-standard gym, physiotherapy area, warm-up room, change rooms and recovery space, including a state-of-the-art refrigerated spa.
This year, council will undertake another major project at Casey Fields to improve the facilities to further support elite women's football after successfully receiving funding from the Department of Health and Human Services (Sport and Recreation Victoria).
Other highlights of the partnership include:
• Elite sport on our doorstep, with AFL Women's and JLT Series games held at Casey Field each year
• The Community Camp held each year, where players spend a day visiting Casey schools to deliver a health, wellbeing and leadership program
• Free events for the community throughout the year, including a Junior AFLW Clinic, the Summer Family Fun event and open training sessions
• Free footy tickets each year to the annual Casey Round and Welcome Game
• MFC provides support to local programs, including Men of Doveton
• MFC's involvement in Casey's Citizenship ceremonies
To keep up-to-date with the Melbourne Football Club events in Casey visit the Melbourne Football Club web page.