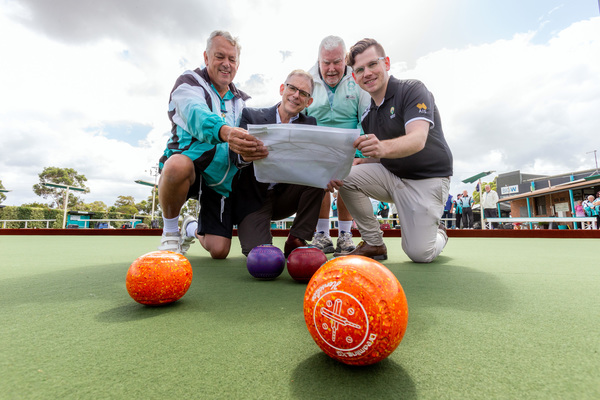 By Brendan Rees
Narre Warren Bowls Club will look forward to playing bowls in all weather conditions thanks to Federal Government funding to secure a new green covers.
Through the help of MP for Holt Anthony Byrne the club will receive $390,000 under the Australian Government's Community Sport Infrastructure Grants Program.
Mr Bryne joined club member Eric Sydneham, club president Peter Groom, and Scot Nicholson from Bowls Australia to make the announcement at the club on Wednesday 6 March.
The unique roof structure will allow members to play in wet weather and allow the club to host major bowls events and public functions.
"This has been a project that I have lobbied for a number of years. I am pleased that we were able to secure funding as an important step to build this outstanding new facility," Mr Byrne said.
"This new and permanent roof structure will cover the existing bowling green at Narre Warren Bowls Club will be of great value to the club and the local community, as anyone can come down and enjoy a game of bowls and enjoy these new facilities. Congratulations to the Narre Warren Bowls Club on receiving this grant," he added.
Mr Sydneham, who is a past president of the club, said the rood would create a unique outdoor function room and cater for many events.
"Narre Warren Bowls Club is a community club and a community hub which focuses not only on lawn bowls but all sections of the Community," he said.
"We are proud to boast that we are the only Bowling Club in Australia which will have facilities of this standard without relying on revenue from gambling to finance and maintain our club.
"We are very grateful to the Australian Sports Commission and Anthony Byrne for assisting us with funding for this major project," Mr Sydneham said.