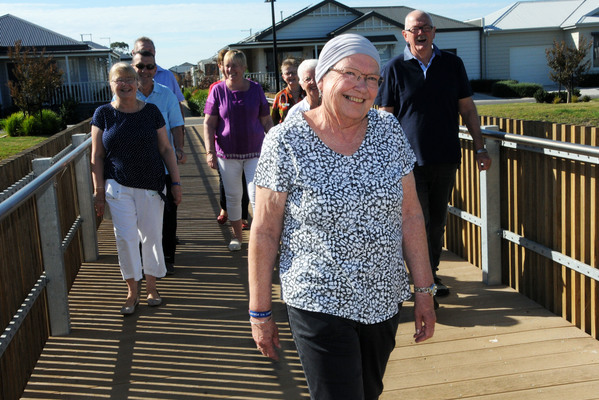 By Brendan Rees
Two Casey women will walk in this year's Mother's Day Classic to raise money for breast cancer, something that is very close to their hearts.
After suffering from breast cancer for nearly 10 years, the four-kilometre Mother's Day Classic walk is a huge feat for Sharon who was restricted from doing any physical activity for years.
The 68 year-old Clyde North resident has kick started her training regime by doing two kilometre walks with her husband Don to get her ready to join the quest to find a cure for breast cancer.
"I asked my two children not to give me a mother's day present but to sponsor me," she said.
"I had breast cancer nearly 10 years ago and then last year in August I got breast cancer again – a different type."
Sharon, who lives at Lifestyle Berwick Waters, said she was undergoing chemotherapy but found this "really difficult to cope with" and now has Herceptin treatment, a targeted cancer drug every three weeks at Dandenong Hospital.
A shocking 48 women are diagnosed with breast cancer every day in Australia.
This is a stark reality for Jodi Dyer of Lyndhurst who watched her best friend and seven family members suffer from the disease.
The 50 year-old is now determined to raise funds for cancer research by participating in numerous charity events.
"I've always been an advocate for breast cancer because of the family history but now it's really ripping at my heart with my best friend," she said.
"It doesn't matter how old you are you've just got to be aware."
Jodi is the operations manager at Lifestyle Communities, a company that has 13 residential communities for over 50s in and around Melbourne.
She said all their home owners, team members, families were participating in the walk to "do the best we can."
"This Mother's Day Classic my kids asked what I wanted for mother's day and I said they're doing it with me," Jodi added.
Lifestyle Communities hopes to achieve its single largest group to ever walk with 600 attendees at the Mother's Day Classic which will be held on Sunday 12 May at the Alexandra Gardens, Melbourne.