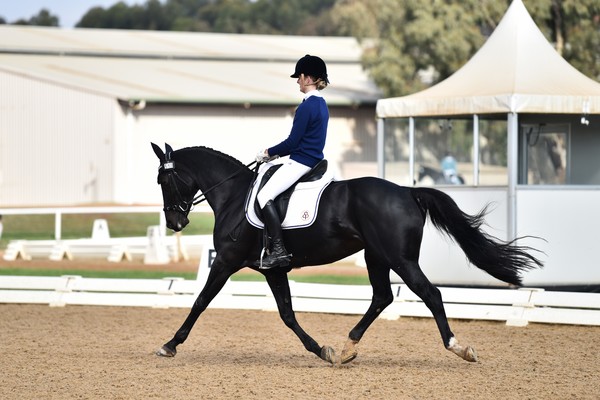 By Danielle Kutchel
At the age of just 15, Sophie Bennett is already an equestrian champion.
The St Paul's Anglican Grammar school student, who balances her passion for horse riding with her year 11 studies, recently achieved success at the Victorian Interschool Equestrian Championships in two disciplines.
Ms Bennett placed third overall in the Working Hunter Championship on her new horse, Bvlgari, and was also named Reserve Champion in the Secondary Senior Novice Dressage on Precious Dreams.
The impressive results have qualified her to compete at the national competition, the 2019 Australian Interschool Equestrian Championships, held at Sydney International Equestrian Centre in September/October.
Ms Bennett, who has been riding since she was six, says it has taken a lot of hard work and dedication to hone her skills. She is part of the Elite Sports Performers (ESP) Program at St Paul's, which allows her to have a free period during the school day to help her keep up with school work and homework.
"We compete basically every fortnight – we try not to do every week because it's too much for the horse, and it's pretty busy, but you get used to it. You work hard and get through it."
While she and her horses have won accolades in showing – where a judge judges the look of the horse based on certain criteria – Ms Bennett says she prefers eventing.
"I love jumping, that's my favourite part. I love the adrenaline rush that goes with it and the hard work involved."
Competing with a new horse has presented some small challenges.
"He's completely different to my last horse – much bigger and he's got a different personality, likes to do things his own way, so you have to get used to that and learn to work with the horse and get used to his quirks.
"When I get a new horse I like to spend as much time with them as I can, brushing, feeding, being with them every night. Spending time with the horse is something I love to do."
Currently, she is focused on preparing for her next competition.
"I'm as prepared as I can be, but with horses anything can happen. You just try your best to make sure it's all going well."
As for her finals in Sydney, she has her eyes on the prize.
"I'm not sure if I'll win this time but I can only give it my best!"