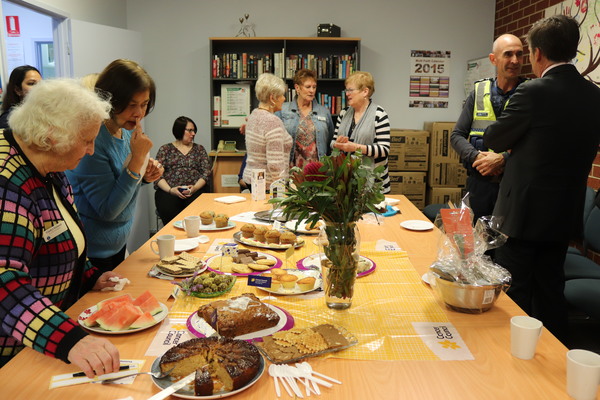 By Danielle Kutchel
The team at Casey North Community Information and Support Service held an energising Biggest Morning Tea recently to raise money for the Cancer Council.
Staff, volunteers and special guests gathered with homemade treats for a competition to decide the coveted title of best baker on the day which was taken out by executive officer Susan Magee. As well as the right to brag about their baking prowess, the winner received a small baking kit to get started on next year's attempt.
A raffle also got people into the spirit and helped push up the total amount raised.
Two members from Narre Warren police station dropped by to fuel up too, along with Casey mayor Amanda Stapledon and Narre Warren North MP Luke Donnellan.
Ms Magee said the turnout was great to see and said the morning tea was something of a tradition for the group.
"We've been doing the Biggest Morning Tea for close to 20 years. It's a really good cause to assist raising money for the Cancer Council, and we're always about supporting other charities where we can.
"It's a really good opportunity to network and get the community to come together. It's very informal, social, and it's a bit of fun!"
As Minister for Volunteers, Mr Donnellan said he was pleased to support the group.
"These guys do such a marvellous job and contribute enormously to our community, whether it be helping with financial budgeting or whether it be help referring people to services they need. If we didn't have the volunteers … people wouldn't be able to get the dignity they deserve."