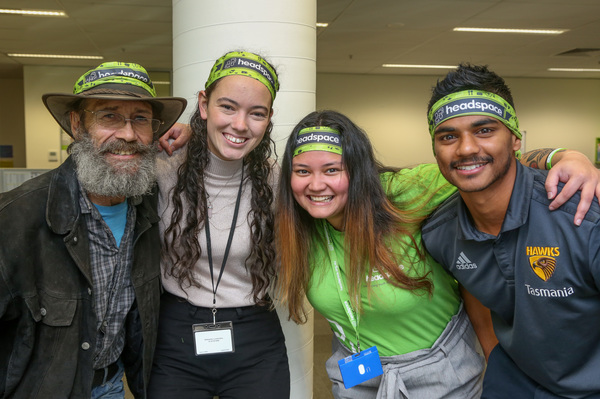 By Danielle Kutchel
Headspace Narre Warren turned four last month with exactly the sort of party you'd expect a four year old to have – complete with green-themed headbands, balloons and cake.
What made this birthday party different was the achievements that staff and guests came together to celebrate, as they reflected on four years of work to support good mental health in Casey youth.
The event opened with a Welcome to Country by Wurundjeri Tribe Land Council elder Uncle Dave Wandin, who also spoke at length about the history of the area and the importance of providing guidance to youth.
Casey mayor Amanda Stapledon was also a guest on the day, and reminisced in her speech about the opening of the centre four years ago.
"The great benefits that have occurred over those four years are outstanding, and in fact I would go so far as to say that Headspace in Casey is doing the greatest amount of work and getting the best outcomes," she said.
"The services that this organisation provides make a difference each day to the many residents in Casey."
Danielle McLean, community engagement worker at Headspace, said the organisation was keen to mark the event on the exact day that they had opened four years ago.
"We wanted to make sure we marked it with a celebration," she said, "Beyond that, it's just a reminder to keep working with our partners and our young people. It's not just about a day, but rather every single day is a bit of a celebration."
Dean McCaughan, manager of Headspace Narre Warren, said service numbers continue to rise at the centre.
"We went up to about 900 at the end of last year which is a record for us, and people think, 'can it get any busier', and it does but we manage it. It's just realigning the workforce to meet the community's needs.
"That's the thing about Headspace – to meet the needs of the community we've got to ever-evolve, and it's a credit to the workforce being so flexible and so community-minded to be adaptable to change. That's really what makes it work."
As demand for its services continues to grow, Mr McCaughan said Headspace has a strong few years of growth ahead, including the development of a satellite site in Pakenham thanks to an election commitment from the Liberal government. The satellite will enhance the work done at The Point and continue to support people from Cardinia, some of whom travel to Narre Warren for their mental health needs.
Mr McCaughan also said the Narre Warren centre would continue to build on its budding school refusal program over the next few years.
"We started really well and the evaluations have come back really strongly, but it's amping that up more, and that means having more staff as part of that program so we can see more students and help more students get back to school.
"Outside of that there's more group programs for young people. The one-on-one support is helpful but people are telling us that being able to connect with their peers through groups and learning in that format is something they're wanting to do so we'll expand on that as well as continuing to provide support to families and carers."
Headspace's youth advisory committee is also campaigning to have a bus stop installed outside the Narre Warren location, to make it easier for young people to access the centre.
Chair of the committee Jemma Schmutter said this particular project was close to her heart.
"I'm particularly hopeful of being able to get the bus stop off the ground to improve accessibility for young people who might rely on public transport to reach our service," she said.
Ms McLean said Headspace was at a stage where it was aiming to grow deeper connections with the community.
This has included the recent formation of a partnership with Hawthorn Football Club, and Headspace is looking to create partnerships with other sporting groups, youth groups and schools in the community.
"That's something we're super excited about," she said.
"We just want to be part of the community and help."