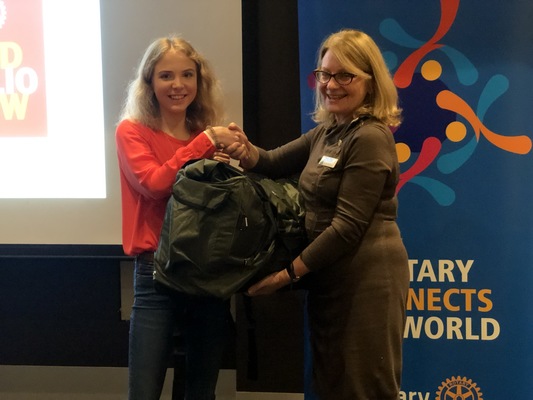 By Brendan Rees
It was a night of good food and laughter as the Rotary Club of Narre Warren celebrated their 44th changeover dinner.
The event, which was attended by more than 50 people at Fountain Gate Hotel, saw new president Keith Roberts inducted on Wednesday 12 June.
Mr Roberts said he was excited for the year ahead and hoped to "make an incredible impact on a large number of people."
"I am confident that this role will provide many more highs than lows," he said as he took to the stage.
"I want to express my gratitude to the Rotary Club of Narre Warren for the honour of asking me to become president of the club where previous incumbents have led with distinction."
Mr Roberts said it was his intention to "initiate a small international project where I would like to see us identify a need and provide an answer to that need,"
Outgoing president Bruce Armstrong reflected on a great year, saying he was privileged to serve the club.
Some of the club's notable achievements under Mr Armstrong's leadership included the club's "fantastic donation" of camping gear and school equipment valued at $4,600 to Operation Newstart, which re-engages young people aged 14 -16 with their families, schools and their communities.
"This is the largest single donation I have been involved with in my 33 years in community service organisations. It made me very proud," he said.
The club was also delighted in hosting 17-year-old exchange student Clara Ruhe from Germany, who used her baking skills to help raise $1,200 during a fundraiser.
This money went towards buying swags which were presented to Casey North Information and Support Service (CISS) during the changeover.
"It's a fantastic program and it was really great Clara was able to raise that money," CISS executive officer Susan Magee said.
Mr Armstrong made honourable mentions to club members who received the Paul Harris Fellow with Sapphire awards last year.
This included Richards Edwards in recognition of 40 years of service, and Roger McGill in making the annual Charity Golf Day a success every year.
He acknowledged many highlights throughout the year including donations to the Transit Outreach Church in Narre Warren to help people doing it tough.
Upon being inaugurated, Mr Roberts said he promised he would "endeavour to be one of the best presidents this club could have to repay their faith in me."
He gave some words of advice to his new board: "I believe the best way forward is to not be shy and tell all in the club about your ideas."