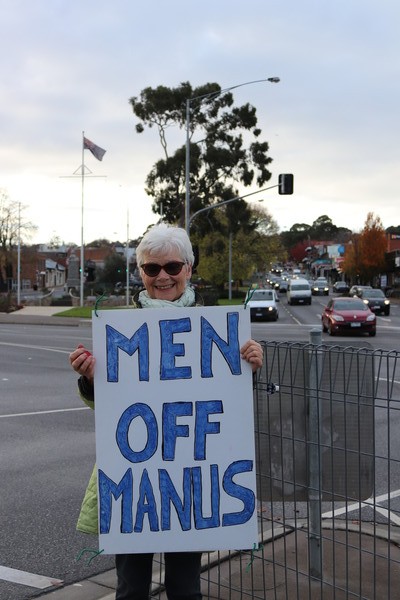 By Danielle Kutchel
Every Thursday morning, rain, hail or shine, a small group of activists gather on the corner of Clyde Road and the Berwick High Street, inviting honks from passing peak-hour drivers.
They hold signs aloft bearing phrases like 'honk for refugees', 'men off Manus' and 'we can't advance until Australia is fair'.
They're members of Casey Cardinia Refugee Action Group (CCRAG), and their goal is simple: they want refugees and asylum seekers off Manus and Nauru Islands.
As reports of refugees self-harming on the islands reach Australian ears, and as the six year anniversary of people being held in detention on the islands approaches, members say their concerns are growing.
"When we think about what we've been able to achieve, to choose to and experience in our last six years, it really is amazing to feel that the actions of Australia have completely limited the life of these people and maybe permanently damaged their mental health," a spokeswoman for the group said.
"It cannot just go on and on. There has to be an end.
"We appeal to the government to act quickly to bring it to an end."
As well as raising funds to send to refugees for phone credit and health care, the advocates maintain their vigil every Thursday during Berwick's morning peak, seeking to quantify community support for their cause and raise awareness about the plight of refugees and asylum seekers.
Interestingly, they say the number of supportive honks recorded grew after the Federal election, perhaps demonstrating widespread support in the community.
But the re-election of Jason Wood as Federal member for La Trobe was "devastating" for the activists.
"We don't feel that the comments that he has made in the media contribute to a positive welcoming community," the spokeswoman says.
"We are enriched by the diversity in the community. We want to see any new migrants or refugees that enter our community supported, we want to see pathways for them to contribute, and we want to see a welcoming community."
While they get plenty of honks from supportive drivers, there is the odd abusive comment yelled through a window – but the spokeswoman says she is not fazed by those who question her allegiance to other vulnerable social groups.
"I think there are many social issues affecting Australians and what we see is that it's not an either-or. If you are active about refugees, it doesn't mean you don't care about the farmers or you don't care about the homeless. We don't think one rules out the other.
"The amount of money that's being spent on detaining the refugees is staggering. That to us is a very poor use of Australia's resources."
CCRAG members are certain that with help from refugee advocates, the government could find a human solution to the issue, and ask concerned residents to apply pressure to their elected representatives.
"We appeal to people that share these concerns to pick up the phone and ring their federal member and express those concerns and ask their local member to act on their behalf."