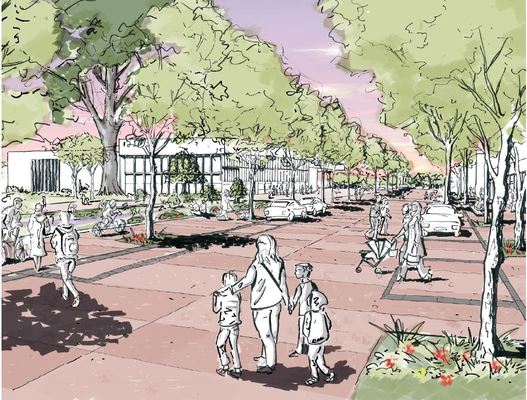 By Andrew Cantwell
The Hampton Park shopping precinct – or Hampton Park Central – is to be revamped and revitalised under sweeping new planning guidelines adopted by Casey Council in early June.
The plan for the precinct affects commercial properties between Hallam Road and Stuart Avenue, and from Somerville Road down to Fordholm Road.
The shopping precinct was until recently home to what has been described as 'Victoria's worst shopping centre' – a title the suburb's residents and Casey City Council hope to throw off in the very near future.
Under the council's vision for the precinct, the tangle of carparks and narrow access lanes will be replaced by accessible and sensible tree-lined streets – including a 'Main Street' with access from Hallam Road – plus a central roundabout and straight north-south feeder streets.
The current ad hoc development – when it's eventually rebuilt – will have modern height limits, allowing development of up to six storeys, with a limit of four storeys on current residential land peripheral to the precinct.
A feature of the plan is an 'urban creek, connecting the River Gum Creek Reserve across Hallam Road with the Fordholm Reserve south of the precinct, and west past the community hub where the kinder, community house and Arthur Wren Hall currently stand.
River Gum Ward councillor Damian Rosario was delighted to speak about the "exciting" vision for the precinct, adding that it gave direction and certainty around investment, transport, shops and facilities.
There was also clear vehicular and pedestrian connectivity, he said.
The centre's 'worst' supermarket – the Hampton Park's Food Market – was demolished in February and its replacement will kick off what is hoped to be a resurgence for the precinct.
The "quite substantial" new development will feature a mix of commercial and retail office space, and over 100 residences on top, Casey's city and asset planning manager Keri New said at the meeting.
The build will show other property holders what's possible, and perhaps encourage them to unlock the new value of their sites, too.
A separate plan for the council-owned land housing a significant river redgum, the Arthur Wren Hall, library, kinder and community house will be developed in due course, becoming a focal point for the community and permitting the build of Main Street to the north.
The council received 22 submissions on the plan, most offering no objection, with two keen to protect Arthur Wren Hall from any detrimental impact.