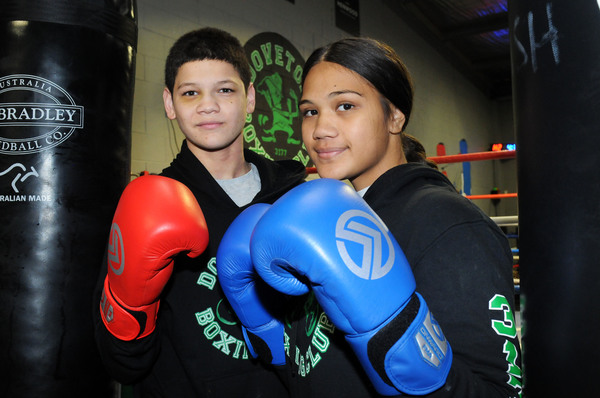 By Nick Creely
Two of Doveton Boxing Club's finest young boxers will be taking their talents across the Tasman to New Zealand next month, representing Regional Victoria Boxing in an exciting opportunity.
15-year-old's Levi Harrison and Zealand Rakei will jet off for a 10-day tournament to Christchurch and Auckland, becoming the first international competitors to come out of the Doveton Boxing program.
Harrison, who will be fighting in the 66kg Junior Division, is a former soccer player who gave up the sport to try something new, and has come a long way since, dedicating himself to training and getting to this very important milestone.
Until the departure day, he'll continue training as hard as he can, knowing all too well just how paramount a strict training routine can be.
"I'm very proud to be representing Victoria in New Zealand, this is a once in a life opportunity and I'm very proud to have been selected," he said.
"I pride myself on hard work and commitment so that I can be mentally and physically prepared to fight.
"From now until we leave it is just hard work and building up the skill and fitness to be best prepared for the event."
The Doveton Boxing Club holds a special place in the heart of Levi, who have helped him take that extra step in his career.
"Doveton Boxing Club has had a massive impact on me, it has taught me to push my limits and it is the main reason I'm here where I am," he said.
"Doveton is the only gym I've been at so it has had a massive impact on my journey.
"I'd like to thank Ryan from the Doveton Boxing Club for getting me this far and giving me all his time and effort to train me.
"Also to Bede and Pauly who did training with me and giving me the time and my mum for taking me to training and home every day."
For Zealand Rakei, who will compete in the Junior Girls 75kg, sport is her passion, and she dedicates every spare moment she has to enhancing herself.
"I work three days a week but when I'm not at work or school I am at the gym training or on the netball court. Boxing is a very difficult sport not just physically but mentally, you have to be really fit but also be smart," she said.
Much like Levi, Zealand is extremely grateful for the opportunity to represent Victoria, and will be working tirelessly to ensure she's in prime shape to make a splash in the tournaments next month.
"What I have to do now to prepare for the New Zealand tour is make sure my weight is on track by keeping to my diet and training every chance I get," she said.
"Preparing myself mentally is also very important. I need to be focusing on my skill work at training and making sure I'm ready for any challenges that are going to be thrown at me."
Doveton Boxing Club has been a vital part of Zealand's life, providing her with plenty of support and guidance in the gruelling sport.
"Doveton Boxing Club is like my second home," she said.
"My skills have improved in many ways. Doveton has always been a welcoming gym from day one. They are like family to me.
"Ryan my coach has always pushed me to the limits which I know will make me the best boxer possible."
Zealand started her journey by doing Karate at the age of eight, but realised it wasn't for her. Three years later, she went to SKAMMA in Narre Warren, enjoying kickboxing and Jiu Jitsu before joining the Doveton Boxing Club where she has been for the last three years.
Now she's hell-bent on proving that female boxing is the real deal.
"Boxing is such an amazing sport and what I love most about it is that everyone underestimates females in boxing which makes me want to show everyone what girls are really capable off and the strength we have," she said.
While Zealand won't look too far ahead, she admits that she would like to one day represent her country.
"Honestly I haven't really thought about my future but I would love to represent Australia in the Olympics and one day I want to go pro," she said.
"But for now I'm just focusing on training and pushing myself to achieve these dreams."
She has plenty of people to thank as she now prepares to become an international competitor.
"I'd like to thank my parents for driving me to training and believing in me with everything I do," she explained.
"But most importantly I want to thank my coach Ryan Wilson for putting so much of his effort, time and money into me.
"Thank you for putting up with all my complaining at training, but most of all thank you Ryan for believing in me and telling me I have a bright future ahead of me in boxing and just not giving up on me."