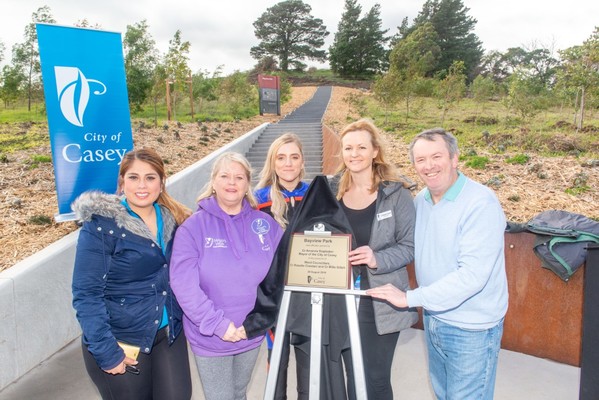 By Taylah Eastwell
Fitness enthusiasts can now step foot on the City of Casey's much anticipated 1001 steps fitness and walking track, with the newly developed Bayview Park officially opening on Wednesday morning.
City of Casey Mayor Cr Amanda Stapledon was present at the opening, telling those eager to try out the track that she felt privileged and proud to lead the community in celebrating the exciting event.
While inspired by Upper Ferntree Gully's steep 1000-step climb, Bayview Park provides a complete healthy lifestyle experience and is hoped to become a familiar destination for locals and tourists of all fitness abilities.
"Whether you're up for a physical challenge, or just want to take the dog for a leisurely walk, Bayview Park caters to a wide variety of uses and needs," Cr Stapledon said.
Council have spent over $800,000 in transforming the former landfill site into a vibrant new fitness park that provides sweeping views across Casey, Western Port and Port Phillip Bay however the works are not yet complete.
"This is the first stage of the Steps project with some other innovative and fun additions to come, and it is just the start of the transformation of Bayview Park as a whole," Cr Stapledon said.
Council is currently working on a master plan for the site to guide additional improvements and developments. There will be further opportunities for Casey residents to have their say about more enhancements to the public park in the future.