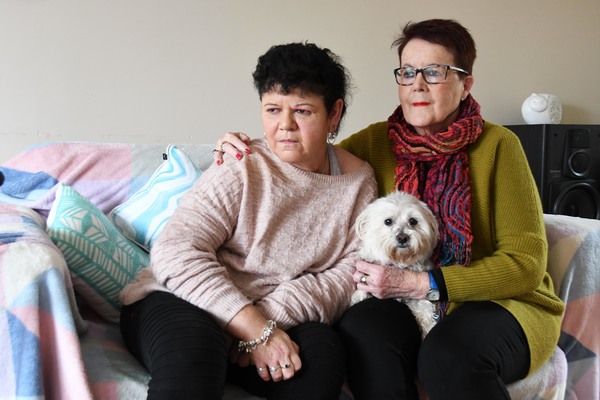 By Brendan Rees
Karen Cheeseman says she was left for dead nearly 13 years ago when she was brutally attacked in her Berwick home.
The 50 year-old has recounted the horror that left the left side of her body partially paralysed.
She remembered dragging herself to the front door to open it for paramedics after being stabbed three times in the throat and cheek, and struck in the temple with a large paperweight, opening a wound to the bone.
"I knew there was something wrong with my leg," she said.
Her attacker missed slicing her neck with a knife by a "millimetre" and pushed her behind a couch as if "she was nothing".
For years, Ms Cheeseman tried to put the incident behind her after Scott Alan Murdoch was jailed for five years, in 2009.
Her attacker, Murdoch, has this month pled guilty to murdering a Pakenham mum.
In 2013, he broke into a Pakenham family home but was disturbed by Kylie Blackwood whom he repeatedly stabbed her in the neck and chest.
Murdoch pled guilty to her murder during a Supreme Court trial, with his sentencing to be heard at a later date.
But for Ms Cheeseman, Murdoch should be given a life sentence.
Sitting in her living room with her Maltese Terrier named Barry and mother Lyn Flewin, Ms Cheeseman tells of the injuries Murdoch violently inflicted on her.
She lifts up her left arm and drops it on her lap like a dead-weight.
"It's like carrying a bag of rocks … I don't know how I'd manage," Ms Flewin said. "You've just got to – she's a winner."
Ms Cheeseman shows her leg brace, special shoes and a four-pronged stick she relies on to walk.
Ms Flewin said: "He's robbed us of so much of our lives. I will battle to the day I die for Karen."
"I think he should've got life then," she added. "What's in his mind? What's triggered him off to have this horrendous thing about women?"
Ms Cheeseman carries a MePAC around her neck, a personal alarm paid for by Victims of Crime Assistance in times of an emergency.
She also requires the help of carers to clean her home and assist her with daily tasks which has been financed through the National Disability Insurance Scheme.
Her "fun day" is Wednesday where she gets to enjoy some shopping and a coffee.
Ms Flewin says "every aspect" of her daughter's life has been affected.
"She needs the carpet when it comes to putting her shoe on because it's got to grip," she says.
"(She) used to wear jeans; can't wear a bra, it's got be crop top (and) jumpers that don't slide off her shoulder."
"People go 'how do you put eyeliner on with one hand?'" Ms Cheeseman added.
Ms Cheeseman regrets the day she met Murdoch through a phone chat line 'Hot Gossip' in September 2006.
Her marriage had broken down and being lonely the then 36-year-old found comfort in the monstrous man she thought "sounded like a nice man".
The pair exchanged messages and Ms Cheeseman arranged to pick him up in her car from the Bi-Lo car park in Pakenham.
They drank alcohol at her home, but when Murdoch checked every room to make sure no one else was home Ms Cheeseman began to feel uncomfortable.
"He went right through the whole house," she says. She thought: "What's going to happen next?"
She told Murdoch "How about you call a taxi and go" but he replied "Oh no you can drive me home."
Ms Cheeseman explained she couldn't drive as she would be over the alcohol limit.
He asked to have sex but when she refused Murdoch became enraged.
"All of a sudden he came towards me, went to grab my mobile … I wasn't strong enough," Ms Cheeseman explained.
She spent six weeks in hospital as a result of his attack.
When they heard the news Kylie Blackwood had been murdered at the hands of Murdoch, Ms Cheeseman and her mother said they felt "more than sick."
"I think something has to be done about the justice system," Ms Flewin said.
Ms Cheeseman says quietly: "I might not have been here if I didn't open that door."