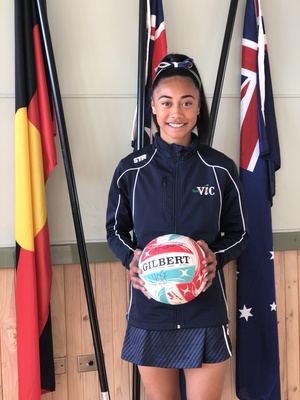 By Brendan Rees
A young Narre Warren South netballer's hard work has paid off after landing a spot in the state team.
Twelve-year-old Piuti Laban was named in the School Sport Victoria 12-and-under state netball team and will now travel to Canberra to vie for the Australian title from 14-20 September.
The student of St Kevin's Primary School in Hampton Park says she was overwhelmed upon hearing her selection.
"I was so honoured and proud," she says. "This is my best achievement so far to represent the state and being co-captain."
The talented youngster plays four times a week with the South East Melbourne Netball Club, Narre Warren Football Netball club and the Casey Representative Team.
But she says school work was just as important as well as balancing her role as house leader.
The selection comes after a tough process but Piuti says she's proud to earn her place.
"I have training's Mondays, and Fridays I either have clinic or catch up with my school work and pray every night because how god always comes first," she says.
Piuti started playing netball at age of seven and explains she had an immediate passion for the game.
Asked if she was nervous to compete at the School Sport Australia National Championships, she says "I'm actually very excited but whatever happens at the time I just want to make sure I do my family, friends and my school proud."
Proud parents George and Sharlene Laban say they have always supported their daughter and encouraged her to "go as far she can".
Mr Laban says since taking up the sport Piuti's talent had "skyrocketed".
"I think it's in her blood … god gave you the talent so make the most of it," he says.
"We already made a deal – if she ended up playing for a country – Australia not New Zealand," he says, explaining Piuti was born in New Zealand.
"At first she said New Zealand … but if she gets that far green and gold all the way."
School principal Anni Miers says Piuti was well deserving of her achievements and a student with a "very generous spirit."
"She really honours that it's a god given talent," Mrs Miers says.
"She's a wonderful role model for sharing her gift –and you can that it shines through her smile."
Many past School Sport Victoria team members have gone on to compete at national and international competitions including the Olympic Games, World Championships and Commonwealth Games.