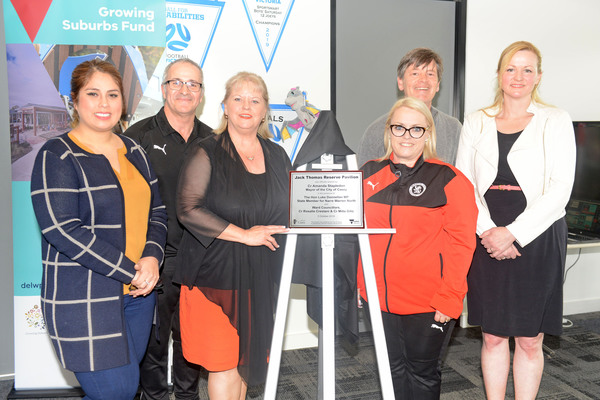 By Brendan Rees
Narre Warren North's athletes have a brand-new home, with the $4 million Jack Thomas Reserve pavilion officially re-opening on Saturday 5 October.
It comes after the reserve's tenant Berwick City, which is Casey's largest soccer club, had long suffered in a dull and cramped conditions in the 40 plus year-old pavilion with no separate change rooms for male and female teams.
The much-needed new pavilion features six unisex change rooms, two unisex referee rooms, a multi-purpose community room and undercover spectator areas.
President of the Berwick City Soccer Club Nicky Woodward, who was present at the launch on Saturday 5 October, said the redevelopment was a "massive achievement" for the club's 800 plus members which fields 56 teams of all ages.
"For the last two years we've had waiting lists for up to 200 kids and haven't been able to fit in," due to the facilities being stretched to its "absolute limits," she said.
"It's a huge thank you to council and the State Government in what they've done for us," Ms Woodward said, adding "It ticks all the boxes in our five year plan we had."
The club can now has six junior girl's teams, two senior women's team, and an all abilities team, she said. "It just means inclusion for everyone."
The new amenities will encourage more participation across the community by providing female-friendly amenities for players, referees and visitors.
Casey mayor Amanda Stapledon said the new facility meant the Jack Thomas Reserve would be "seen as a bigger draw card for hosting games and tournaments."
"This new pavilion will support our residents to be active and healthy, and it's what the members of our local sporting clubs deserve," she said.
Narre Warren North MP Luke Donnellan said the modern upgrade meant the Berwick City Soccer Club could continue to grow.
"We are meeting the growing demand for more modern and accessible community sports infrastructure that can be enjoyed by everyone," he said.
The State Government poured nearly $1.8 million from the Growing Suburbs Fund towards the project, with Casey Council contributing $2.2 million.
Sport and Recreation Victoria's Community Sports Infrastructure Fund provided $100,000 for the female friendly facilities as well as an additional $100,000 to improve the soccer pitches at the reserve from the World Game Facilities Fund.