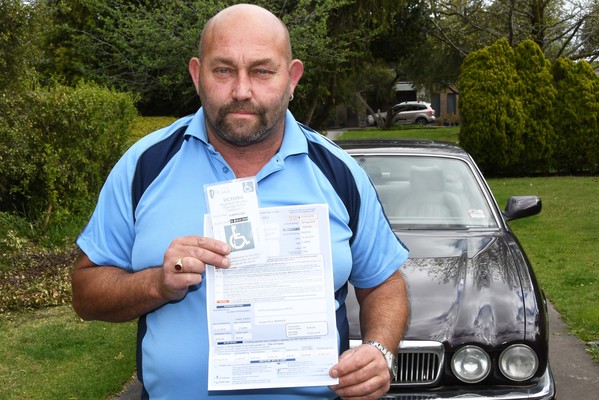 By Brendan Rees
A Berwick disability pensioner is furious after copping an 'unfair' parking fine – which he says has now gone up to $190.80 as he refuses to pay.
Doug Brisbane says he was taking his father-in-law to Casey Hospital in July after he had suffered chest pains and trouble breathing.
Mr Brisbane dropped him off at the emergency department but couldn't get a park despite having a disabled permit sticker. According to Mr Brisbane, the disabled parking spaces were taken by cars not displaying a disabled permit.
The 52-year-old said the closest he could park was along Kangan Drive in Berwick which he thought would be OK as he saw a two-hour parking sign displayed but was slapped with a $165 fine.
"When I got out of the hospital and I've seen it I thought 'you've got to be kidding me'," he said.
"I took photos and everything of it because the signs were just confusing because it said no standing and … two hour park.
"I've just received another notice saying it was due on the 10 October and it's gone up to $190.80," he said. "I just refuse to pay it."
He added: "I'm just shocked. Other places you get $80 fines or whatever."
Mr Brisbane is the latest victim of the strict parking along Kangan Drive in which hundreds of people have reportedly been slapped with fines over what they describe are "confusing" signs.
Earlier this year Casey Council introduced 'clearer' parking signs – displaying a no standing zone after deciding to remove some on-street parking to "provide some benefit to the ongoing congestion issues" within the Berwick Health and Education Precinct.
In January councillor Tim Jackson spoke at a council meeting arguing council should advocate to the State Government to make parking free at public hospitals rather "forcing" people to park on the road.
Meanwhile, it's not the first time Mr Brisbane has been hit by an 'unfair' parking fine. He said while the Casey Hospital was being built a lollipop man had directed him to a smaller car park but copped a $86 fine. "I said I refuse to pay… I never heard anything more about it."
Mr Brisbane said he regularly used Kangan Drive and saw cars parked "a lot longer than two hours" as well as cars stopping to pick up students at the TAFE.