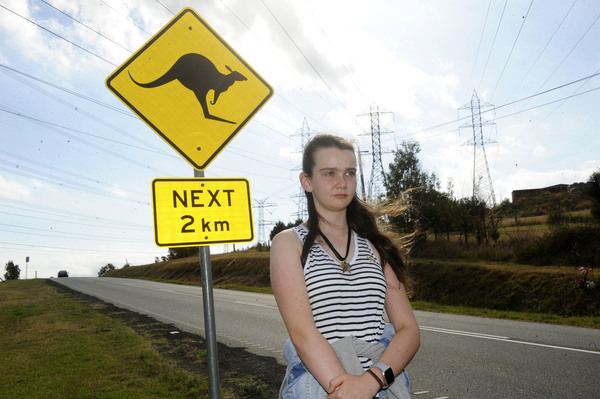 By Brendan Rees
Hi-tech 'virtual fencing' will be deployed in a bid stop the amount of kangaroos being killed along a stretch of road in Lysterfield South.
Casey Council will install about 40 electronic bollards on both sides of Churchill Park Drive west of Parkside Boulevard towards the Churchill Park Golf Club boundary.
The bollards are activated at night by approaching vehicles and emit a flashing light and sound to repel wildlife from approaching the road while the vehicle is in the area – effectively creating a virtual fence.
City of Casey will be the first Victorian council to adopt the new technology and mayor Amanda Stapledon said council was happy to support an innovative solution that improved road safety and protected local wildlife.
"Council has responded to ongoing resident concerns in this part of Lysterfield South where we know there are far too many collisions between vehicles and local wildlife and we hope this technology will help to improve driver behaviour and protect animals," she said.
The vehicle-activated warning signs are designed to alert motorists that it is a high-risk zone for kangaroos and encourage drivers to slow down, especially during the hours between dusk and dawn when most collisions with wildlife occur.
The road safety initiative comes after 12-year-old Shannon Tobin-Underwood of Lysterfield South started a petition in March to protect kangaroos from becoming roadkill on Churchill Park Drive.
Her dad, Paul Underwood, put forward a submission to council on behalf of a community lobby group called 'Save the Roos' for possible improvements including the virtual fence.
"I am so proud that my petition of 111 signatures has resulted in such positive results," Shannon said. "Although the reduction of the speed limit was the goal of my petition, I believe the virtual fence and large flashing warning signs are a major win."
"I would like to thank Cr Crestani for really listening and supporting the Lysterfield South community," she added.
The bollard technology, created by Wildlife Safety Solutions, has been successfully used across Tasmania and in Victoria by VicRoads on a section of Wellington Road in Lysterfield. The early indications are call-outs to injured wildlife on Wellington Road have reduced significantly since the bollards were installed earlier this year.
Council has also been successful in receiving funds under the Federal Government's Black Spot Program for six solar-powered flashing signs that will be installed on Churchill Park Drive between Police Road and the golf course, and a nearby section of Power Road.
Meanwhile, Shannon says she will be hosting a 'Kookies For Kangaroos Stall' on Sunday 8 December to support local volunteer wildlife carers and rescuers. This will be held at the park on Parkside Boulevard, located in the middle of the estate, from 11am. All welcome.